Another PS2 Game Makes Its Way to The PS4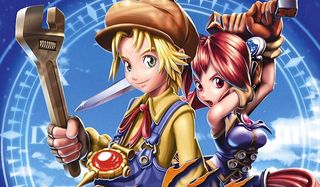 It looks like fans of PS2-era RPGs are in for a treat, as it has now been revealed that the beloved Dark Cloud 2 will soon be joining the PlayStation 4 games library.
During the latest PlayStation Blogcast, the hosts discussed everything from their favorite games of 2015 to their most anticipated titles of 2016. They also spared some time to chat about the popular anime series, Death Parade.
But what caused many RPG fans' ears to perk up was a little snippet where, in discussing what's coming to the PlayStation Network next Tuesday, January 19, the gang announced that Dark Cloud 2 will be the latest PlayStation 2 game to make its way to Sony's newest home console.
That's kind of fantastic news, as the beautifully cell-shaded game is hailed by many to be one of the best games of its generation.
For many, the inclusion of Dark Cloud 2 isn't really coming as a surprise. When Sony first announced that PS2 games would be coming to PS4, a handful of games from developer Level-5 were on that list; such as the original Dark Cloud and the criminally overlooked Rogue Galaxy.
It was clear, in other words, that Level-5 was on board with this backwards compatibility business, yet there was a huge hole in that lineup; specifically Dark Cloud 2. Well, now it looks like we're going to be receiving it in the next PSN update, complete with the usual upgrades (smoothed out graphics, trophies, etc.) that are being included with all of these PS2 games hitting the new console. We'd be curious to learn if Sony's voting system had anything to do with this latest launch.
But now this leads to the big question: Is Level-5 testing the water to see if folks are still interested in a Dark Cloud 3? Is it, perhaps, already in the works? We'll have to wait to find out if any new Dark Cloud news is in the cards, but it would be kind of surprising considering how busy the studio is these days.
Along with an upcoming sequel to Ni no Kuni, the team is responsible for games in the Professor Layton series, they've got a mobile sequel to Fantasy Life on the horizon, and then there's the big-in-Japan (and catching hold here in the States) Yo Kai Watch series. And that's only part of their current portfolio. Then again, if they do manage to squeeze in a Dark Cloud 3, I certainly wouldn't complain.
As for those PS2 games on PS4, the collection is starting to take a nice shape. The launches are only getting started, though, so there's plenty of room for missing classics. Let us know what you'd like to see announced soon in the comments section below.
Your Daily Blend of Entertainment News
Staff Writer for CinemaBlend.