Assassin's Creed 2 Free On Xbox 360 Starting Tomorrow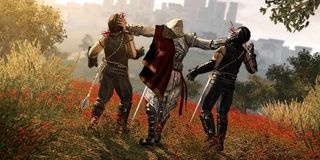 If you have an Xbox Live Gold subscription, you'll have a free game waiting for you tomorrow. Assassin's Creed 2 will be available for no charge as part of the new "Games with Gold" feature of Xbox Live.
Assassin's Creed 2 is normally $19.99 to purchase. However, from July 16th to July 30th, the game will be free to download. The only cost is your hard drive space (5.19GB in this case). You'll be able to keep the game permanently as well.
AC2 is the first game in the series to star Ezio Auditore, the Renaissance era teenager. After his family is attacked by political rivals, he becomes an Assassin and hunts down those responsible. His quest takes him across Italy, from Florence to Venice to Rome.
The Assassin's Creed series gets a lot of criticism these days for being stagnant. AC2, though, was a definite upgrade over AC1. It filled out the open-world with a range of side activities and removed some of the monotony of the first game. It also beefed up the combat with new weapons and enemy types. It's arguably the best game in the series. The only negative thing I can say about it is that it lacks the multiplayer from Assassin's Creed: Brotherhood and later installments.
The "Games with Gold" program was announced by Microsoft at E3. It's similar to the Instant Game Collection offered by PlayStation Plus. On the 1st and 16th of every month for the rest of the year, a new Xbox 360 game will available for free download. The current freebie is Defense Grid: The Awakening, a sci-fi tower defense game. Awakening will only be available until the end of today so pick it up while you can, Gold members.
The free giveaway of Assassin's Creed 2 will be accompanied by franchise-wide discounts. The following games and DLC packs will be available on the cheap:
Assassin's Creed - $14.99 USD (normally $19.99)
Assassin's Creed II Sequence 12: Battle Of Forli - 214 MSP (normally 320)
AC II Sequence 13 : Bonfire Of The Vanities & Secret Locations - 375 MSP (normally 560)
Assassin's Creed Brotherhood - $14.99 USD (normally $19.99)
AC:B – The Da Vinci Disappearance - 536 MSP (normally 800)
Assassin's Creed Revelations - $14.99 USD (normally $19.99)
ACRs — The Lost Archive - 536 MSP (normally 800)
ACR — Mediterranean Traveler Map Pack - 536 MSP (normally 800)
Assassin's Creed III Season Pass - 1600 MSP (normally 2400)
The discounts will run until the end of the month.
Your Daily Blend of Entertainment News
Staff Writer at CinemaBlend.