Assassin's Creed Comet For Xbox 360 And PS3 Takes Place In America?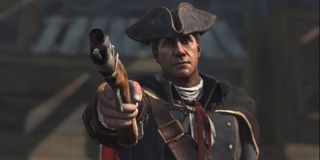 The next (maybe last?) Assassin's Creed game for the Xbox 360 and PS3 may have a very familiar setting. A new report suggests that Assassin's Creed Comet takes place in America.
French site GameBlog (translated here by Reddit) reports that Comet is set around 1758. That would explain the game's unusual name. 1758 was the year that Halley's Comet was spotted for the first time. GameBlog speculates that the comet will have something to do with the mysterious First Civilization that appears throughout the AC series.
The game will supposedly center around Shay, an English pirate. The game stars with him betraying the captain of his ship, Adewale. Adewale, if you recall, was the first mate of Edward Kenway in Assassin's Creed 4: Black Flag and the star of his own DLC adventure Freedom Cry. The game would then follow Shay as he pursues a life of piracy along the Atlantic coast of the United States.
Kotaku followed up on GameBlog's report, confirming with sources that the game's protagonist is indeed named Shay. They add that Shay is actually a member of the Templars, the centuries-old order that fights a secret war against the Assassins throughout the series. Haytham Kenway, a Templar who appeared in Assassin's Creed 3, will make an appearance in the game according to their report. New York is one of the main cities that players visit.
Comet will allegedly launch this fall alongside Assassin's Creed Unity. Unity, a brand-new game set during the French Revolution, is in development for PS4, Xbox One and PC. By releasing Comet on last-gen consoles and Unity on current-gen consoles, Ubisoft can reach as wide of an audience as possible. They can also tailor each game to the capabilities of each generation of consoles.
It should be noted that Comet hasn't been officially announced by Ubisoft yet. However, the Unity leaks last week proved that there are folks at Ubisoft willing to spill the beans. It seems very plausible that these Comet details will turn out accurate as well.
Ubisoft's response to the Unity leaks was to release the game's first trailer. Will they respond the same way to the Comet rumors? Maybe not. A trailer for a PS3 and Xbox 360 game might look a little bland when lined up against a PS4/XB1/PC trailer released a mere week earlier. We'll just have to wait and see, though.
Your Daily Blend of Entertainment News
Staff Writer at CinemaBlend.