Assassin's Creed Games Will Be Changed By Movie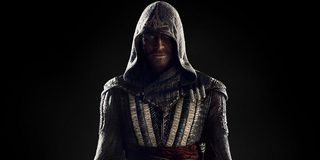 The upcoming Assassin's Creed movie will give fans some insight into the series' future. Assassin's Creed head of content Azaizia Aymar said in a Twitter Q&A that the film's storyline will impact later games.
As he notes in the Q&A, the film operates in the same continuity as the other works:
Although the movie takes place in the same universe as Assassin's Creed games, it isn't an direct adaptation of one of the games. Instead, the film a brand-new story. The main character is Callum, a new modern-day character. He'll use the animus to reliving the memories of his ancestor Aguilar, an Assassin operating in the 15th century during the Spanish Inquisition.
While we don't know much about Callum just yet, Aymar was willing to reveal that he's very unlike other modern-day Animus users we've met through the games and comics:
The film's cast is also composed of other new characters. However, Aymar said that players could see some familiar faces. For example, Abstergo Industries, the evil corporation run by the Assassins' sworn enemies, will "definitely" be a part of the story. Gamers have met many Abstergo employees at this point so maybe we'll see one or more of them in the movie.
It's also possible that we could see familiar characters in the Spanish Inquisition side of the story. DS and iOS game Assassin's Creed 2: Discovery actually took place in that era. In Discovery, the Assassin Ezio traveled to Spain to free allies that had been imprisoned by the Inquisition. It would be a little disappointing if Aguilar didn't meet Ezio at all considering the latter's importance to the Assassin's Creed universe. Aymar's not willing to divulge such an important detail about the film just yet, though:
The Assassin's Creed movie won't be out until December 2016. That means AC fans will probably get two games - Assassin's Creed Syndicate and whatever Ubisoft releases in Fall 2016 - before it arrives in theaters. While the film might give us some indication as to the game series' future, I wonder if the opposite is true. Will the future games lead into the film at all?
Staff Writer at CinemaBlend.
Your Daily Blend of Entertainment News
Thank you for signing up to CinemaBlend. You will receive a verification email shortly.
There was a problem. Please refresh the page and try again.