Assassin's Creed Unity Isn't On Xbox 360 And PS3 But Ubisoft Won't Abandon Those Consoles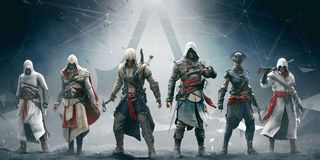 Ubisoft is only developing Assassin's Creed Unity for Xbox One, PS4 and PC. However, Xbox 360 and PS3 owners won't be hurting for new Assassin's Creed games.
"The title will be released this fall on Xbox One, PS4 and PC," Ubisoft CEO Yves Guillemot said on a Ubisoft investor's call this week. "We have not disclosed our plan yet for the Xbox 360 and PS3 SKUs, however we have made it clear as a company that we will expect to continue supporting both consoles for the foreseeable future."
Rumor has it that Ubisoft will release a brand-new Assassin's Creed on Xbox 360 and PS3 this fall. The game, entitled Assassin's Creed Comet, is said to take players back to 18th century America. This setting and era was previously seen in Assassin's Creed 3 and Assassin's Creed 4 so expect connections to those games' storylines. For example, AC4 first mate Adewale is said to make a major cameo.
Assassin's Creed Comet's main character Shay is a Templar, mortal enemy to the Assassins. The player controls Shay as they pursue of a life of piracy along the Atlantic coast. Naval combat, a big feature of the past two AC games, will play a big role in Comet as well.
Ubisoft has yet to announce Assassin's Creed: Comet even though they revealed Assassin's Creed Unity in March. If the game exists and is coming this fall, though, they should reveal it soon though. Perhaps Comet will make an appearance at Ubisoft's E3 press conference?
Guillemot's statement that the company will continue producing games for the Xbox 360 and PS3 for "the foreseeable future" is a bit surprising. They stopped developing new games for Xbox and PS2 in 2006 and 2007, respectively. That's only a year after each console's successor hit the market.
Still, long-term Xbox 360 and PS3 development makes sense for Ubisoft. Those two consoles might be old and behind the tech curve but they're still a huge cash cow for Ubisoft. Xbox 360 and PS3 each have 80 million owners at this point. It'll take the Xbox One and PS4 years to sell even half that many units. As long as there's a large player base on PS3 and Xbox 360 willing to buy new games, it makes sense for Ubisoft to keep supporting those platforms. That's great news for gamers reluctant to pony up $400 for an upgrade.
Assassin's Creed Unity is set in Paris during the French Revolution. During the investor's call, Guillemot said it will be a "major entry in the franchise's history." All we've seen of the game so far is a teaser trailer with in-engine footage. However, Guillemot says that the game's "great new innovations" will be shown off at E3.
Staff Writer at CinemaBlend.
Your Daily Blend of Entertainment News
Thank you for signing up to CinemaBlend. You will receive a verification email shortly.
There was a problem. Please refresh the page and try again.