E3 2014 Press Conference Schedule: Find Out When The Convention's Biggest Announcements Are Coming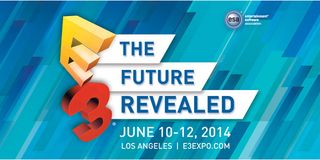 Every E3 brings a deluge of gaming news. Many of the biggest announcements come during press conferences held by console manufacturers like Microsoft and Sony or publishers such as EA and Ubisoft. So, when will these companies hold their press conferences this year?
E3 2014 will run from June 10th to 12th. Most of the press conferences are clustered toward the beginning of the show, though.
Here's the full schedule of E3 press conferences that we know so far, along with some speculation on what each company will announce. We'll update the article when additional information comes in.
Microsoft - Monday, June 9th at 9:30 AM PDT
"During the briefing, you'll be treated to everything from in-depth looks at previously announced games to trailers for our unannounced games coming in 2014 and beyond," Microsoft's Larry "Major Nelson" Hryb said on his blog.
Hryb added that you can stream the press conference, entitled "Xbox: Game On," through Xbox.com, Xbox Live and Windows Phone worldwide. The press conference will also be broadcast on Spike TV in the U.S. and Canada.
"We're also planning a number of fan-centric events both before and after Xbox: Game On for those fans that are in LA and for those who are watching around the world. Stay tuned for more details on those activities as we get closer to E3!"
Halo 5, announced at last year's press conference, is still a big question mark even though it's supposedly coming out in 2014. Microsoft may finally show off in-game footage at this latest presser.
EA - Monday June 9th at 12 PM PDT
EA confirmed the date for their press conference last month but haven't provided any other details.
EA Sports UFC launches a week after the press conference so they'll presumably take this opportunity to show off the game. Other previously announced 2014 releases like Madden NFL 15, Dragon Age: Inquisition and The Sims 4 should get previews as well.
There's a chance they'll reveal the next Mass Effect as well? It was already playable last year so it could be close to release.
On a related note, the company's hosting a sweepstakes for E3. The grand prize is a free trip for the convention for two.
Ubisoft - Monday June 9th at 3 PM PDT
Ubisoft, like EA, confirmed the date and time for their press conference without saying much else.
The company has several games coming out in late 2014, though, so it's easy to imagine the content for their presser. Expect gameplay footage for Assassin's Creed Unity, the French Revolution Era game coming to PS4, Xbox One and PC this fall. Racing game The Crew and MMO shooter Tom Clancy's The Division should get demos, too, if Ubisoft still plans to release them this year.
There are plenty of wild card possibilities for their conference as well. Will they announce rumored Xbox 360 and PS3 game Assassin's Creed Comet? How about Far Cry 4? And will we get to see their revamped version of Rainbow 6: Patriots?
Sony - Monday June 9th at 6 PM PDT
Sony's hardware marketing head John Koller hinted at their E3 plans in an interview in January.
"We've talked publically that there's a huge and significant amount of games coming this year to the PlayStation 4. We'll be showing a lot of those and it is going to be an exciting moment for many people. I can officially confirm that what is coming next is really spectacular. The types of games that are coming are absolutely fantastic. We've already talked about some of these already, but games like Destiny, which is the game from Bungie that is really going to be a show piece as to what makes the PlayStation 4 so special."
"There's a lot of innovation. That's something that we really want to push. The PlayStation 4 is really the strong innovation engine for this category and this industry. There's certainly a lot to talk about there. So E3 is going to be fun this year. This is going to be one of those, you know, years where we're going to have a fun time showing new games to the world."
One specific game he mentioned was Uncharted 4. The game was revealed with a teaser trailer when PS4 launched last November but Sony hasn't said anything about the game since. He says the PS4 exclusive "that may be an interesting thing to tune in for at E3," though.
Nintendo - Tuesday, June 10th at 9 AM PDT
Nintendo won't hold their press conference at the Los Angeles Convention Center. Instead, they're going to broadcast a video that shares their latest announcements.
"Every year, Nintendo looks for the best way to show its games and share its news with fans, media and other key audiences," the company said. "In 2013, Nintendo decided to forgo a traditional press conference and use a video – in that case a Nintendo Direct – to share its news from E3. The company is building on that approach at E3 2014 with the 'Nintendo Digital Event,' a new kind of video program that will reveal and provide further detail about the gaming experiences on the way for Nintendo platforms in 2014 and beyond."
Additionally, the company will broadcast a "Treehouse" program throughout E3 from Nintendo's booth. This live streamed program will feature demos from Nintendo's "biggest games of E3."
Confimed 2014 releases like Sonic Boom and Super Smash Bros. should take center stage during Nintendo's events. Core amers would appreciate fresh details on next Legend of Zelda or Bayonetta 2, too, but we'll see if Nintendo can deliver.
Your Daily Blend of Entertainment News
Staff Writer at CinemaBlend.