Banjo-Kazooie: Nuts And Bolts DLC Is Coming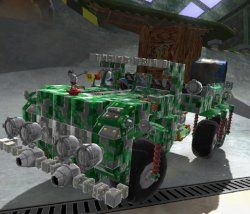 New achievements, new add-ons and contraptions are coming to Bano-Kazooie: Nuts & Bolts this April. The name of the DLC is called Lord of Gamer's Lost Challenges. In addition to what the content brings to the standard-fare play of the game, there's also a new Klungo Arcade Game to play and some new content that can be unlooked via Banjo-Tooie on Xbox Live Arcade.
According to the press release, "L.O.G.'s Lost Challenges offers players the ability to earn up to 250 achievement points as they immerse themselves into 12 new challenges and 7 new multiplayer games"
Will this be enough to get gamers back into the playing cycle of Banjo games? Probably not. But that isn't stopping Rare from [desperately] trying to get some attention around the contraption-building-Banjo game. The company has also included 7 new vehicle designs based on a contest that included fans from all around the world. Gamers can unlock these contraptions via the Stop'N'Swap feature on Banjo Tooie.
L.O.G's Lost Challenges for Banjo-Kazooie: Nuts & Bolts will be available on April 7th for 400 MS Points. You can learn more by visiting the Official Website. For more gaming news, info and updates, be sure to stay tuned in with Blend Games.
Your Daily Blend of Entertainment News
Staff Writer at CinemaBlend.