Batman: Arkham Asylum New In-Game Walkthrough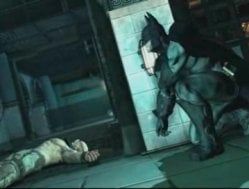 We've seen a lot of cinematic trailers for Batman: AA and very, very little in-game play on display. Well, RockSteady has changed all that today with an in-depth walkthrough for some of the gameplay for Batman: Arkham Asylum, giving players a good glimpse at being the perfect, invisible predator.
The devs show off the Challenge Mode in the following trailer and it looks good! The video puts Batman on display as the invisible predator that he is – giving players a look at some of the neat ways to dispatch enemies (without killing them). We don't get to see all of Batman's antics put to use against the Joker's pernicious group of villains, but we get to see enough to know that the game will rock.
You can check out the new trailer below and remember to look for the game to hit store shelves this summer. For more info on Batman: Arkham Asylum, feel free to visit the Official Website. And be sure to stay tuned in with Blend Games for more news and info regarding all things gaming.
Your Daily Blend of Entertainment News
Staff Writer at CinemaBlend.