Batman: Arkham City And Arkham Asylum Might Be Coming To PS4, Xbox One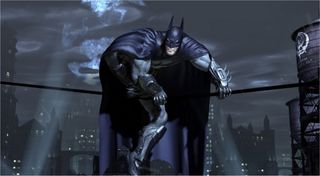 The holidays could have a bit of a saving grace for Xbox One and PS4 owners in the form of a seventh-gen remaster. Yes, the very popular Rocksteady titles for the Xbox 360 and PS3 could be making a return in true HD for the Xbox One and PS4.
IGN Italy is reporting that the two very popular games that helped change the way we view superhero games may be coming back with supped up graphics and better stability this holiday season. Author Lorenzo Antonelli wrote...
This could be a nice way to maintain momentum for the Batman series coming off the finale from Rocksteady Studios this summer, Batman: Arkham Knight.
Arkham Knight will mark the final game in Rocksteady's Batman series, bringing the story arc to a close in a really big way, including the introduction of the Batmobile in an open-world Gotham City where the Dark Knight will have to face down foes with all new gadgets, moves and takedowns.
It makes sense, if it's true, that Warner Bros and Rocksteady might want to get one final push from the series with an HD remaster edition of both Batman: Arkham Asylum and Batman: Arkham City.
Both games were major sellers and were not only critically acclaimed by the professionals but equally praised by consumers as well. You know you have a smash hit on your hands when the game sells well, and both critics and gamers can agree that it's a top notch title. It's become somewhat of a rarity to see scores align between the professionals and the people who actually buy the game.
As for what we can expect from Arkham Aslum and Arkham City on the Xbox One and PS4? No details have been released. It could just be a graphics buffer with some tightened pixels and cleaner lines, or it could be an overhaul, with upgraded textures, more smoothened gameplay at 60 frames per second, or advanced a few new pieces of DLC or content thrown in for good measure.
I do wonder, however, if the re-release of these games will also make the cut on PC? A special HD remastered edition on computer seems a little redundant, though. If you already have the Game of the Year Editions for both Arkham Asylum and Arkham City on PC , would you really need an HD remastered edition? I mean, the PC version already supports pure HD textures and high-end resolutions. So I would assume the HD remastered editions would only be available for console gamers.
Even still, more games for the eighth-gen consoles aren't a bad thing. I think most gamers would probably have preferred if the PS4 and Xbox One allowed for backwards compatibility with a bump up in resolution, sort of like how the PS3 offered backwards compatibility in early iterations, or how the Wii and Wii U both offered backwards compatibility.
We'll keep you posted on the potential re-release of Rocksteady's two classic Batman titles.
Your Daily Blend of Entertainment News
Staff Writer at CinemaBlend.
Your Daily Blend of Entertainment News
Thank you for signing up to CinemaBlend. You will receive a verification email shortly.
There was a problem. Please refresh the page and try again.