Batman: Arkham Knight's Batgirl DLC Lets You Fight Joker And Harley Quinn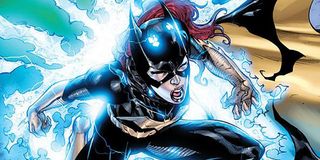 As Batman: Arkham Knight's Batgirl DLC creeps closer to release, we're slowly learning more and more about the adventure. A new preview of the add-on reveals some significant plot and gameplay details.
Batgirl: A Matter of Family is a prequel not only to Arkham Knight but the entire trilogy. Players will control Batgirl, also known as Barbara Gordon, for the first time in the series. According to Entertainment Weekly, the DLC follows Barbara Gordon as she tries to rescue her dad, Commissioner Gordon, from the Joker.
The Joker picked a strange place to hold the Commissioner: a nautically themed amusement park. Seagate Amusement Park is out on an oil rig so Batgirl will be presumably cut off from all outside aid besides Robin. To make matters worse, the Joker has rigged the park with all sorts of booby traps.
WB Games Montreal, who formerly developed Arkham Origins, wants Batgirl to feel like a distinct character. Design producer Justin Vazquez told EW that she has technical expertise that the Dark Knight doesn't:
Like the main campaign, the Batgirl DLC lets you use two characters in combat with the Dual Play system. In this case, you'll be switching between Batgirl and Robin. However, there's a twist this time around: the Joker and Harley Quinn can also tag-team you. This two-on-two battle sounds like a fun climax to the DLC.
WB Games Montreal has also included some optional content in the DLC. There will be side quests to complete throughout the park. You can also find Joker collectibles and some other Easter eggs that should be appreciated by long-time comic book fans.
Batgirl: A Matter of Family is the first of several DLC packs planned for Arkham Knight. "Gotham City Stories" will let players control Batman's allies in a series of new missions. In "The Season of Infamy," Batman will fight a fresh set of supervillains. Other add-ons in the works at Rocksteady include challenge maps, Batmobile racetracks, and alternate skins for multiple characters.
The Batgirl DLC will launch on July 14th for Arkham Knight Season Pass owners and on July 21st for everyone else. The Season Pass, which includes the other DLC announced thus far, costs $40. You can also purchase Batgirl: A Matter of Family separately for $6.99.
Staff Writer at CinemaBlend.
Your Daily Blend of Entertainment News
Thank you for signing up to CinemaBlend. You will receive a verification email shortly.
There was a problem. Please refresh the page and try again.