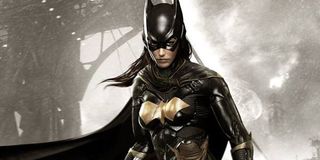 Batman: Arkham Knight's first post-launch DLC pack will be arriving later this month. The exact release date of the Batgirl DLC will depend on whether you bought the Season Pass, though.
Batgirl: A Matter of Family is a prequel starring Barbara Gordon. Here's the official description from Warner Bros.:
The Batgirl DLC will debut on July 14th for players who purchased the Batman: Arkham Knight Season Pass. Everyone else will have to wait until July 21st to purchase it.
Rocksteady Studios didn't actually develop this add-on. Instead, it was created by Batman: Arkham Origins studio WB Games Montreal. Rocksteady will be handling development of all the other DLC for the game, though.
Batman: Arkham Knight's DLC will be released over the course of six months. Some of these add-ons are story-based. "Gotham City Stories" is a set of missions starring Batman's allies. "The Season of Infamy" lets Batman fight a new set of supervillains throughout the city. WB said previously that these add-ons would have "new gameplay features," which I suppose means new gadgets or enemy types.
Arkham Knight players can get access to a series of smaller add-ons as well. They can test their Batmobile driving skills in a series of race tracks inspired by different eras from Batman's history. Challenge maps will let them practice their stealth or hand-to-hand combat. Players will also get skins "from across the eras" for Batman, Robin, Nightwing and Catwoman. If you've purchased the $40 Season Pass, you'll get all this DLC as well as an exclusive Flashpoint skin for Batman.
WB released Batman: Arkham Knight last week on PS4, Xbox One and PC. I enjoyed the game quite a bit but that was on PS4. The PC version, unfortunately, is suffering from several technical issues. Rocksteady is working on patches for the PC now but WB has stopped selling that version until the game's in better shape.
This poll is no longer available.
Your Daily Blend of Entertainment News
Staff Writer at CinemaBlend.