Batman: Arkham Knight Mod Turns Alfred Into Playable Character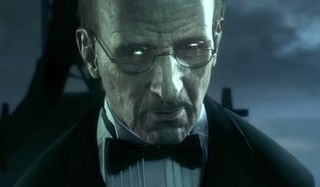 Throughout the Arkham series, players never had a chance to become Batman's butler Alfred Pennyworth. However, a new mod for Batman: Arkham Knight finally allows us to become the dapper manservant.
Warning: The video has a few spoilers for Arkham Knight's plot.
The Alfred mod featured on Batman Arkham Videos swaps out Batman for Alfred so players can pummel Gotham's criminals while wearing a tuxedo. Who knew he was such a capable crimefighter? Still, the mod's creator points out there are some limitations to Alfred:
Arkham Knight players can become several other characters as well thanks to fan edits. A mod released last month allows them to switch between Red Hood, the Joker, Catwoman and several other characters on the fly. It's not a complete transformation in any case because you've still got Batman's voice. Plus, some of these characters have hard limits because Rocksteady didn't intend for them to be playable. For example, the Joker doesn't have any combat abilities.
Nonetheless, these character swaps are a fun way to shake up players' usual routine. After dozens of hours of staring at Batman's back, it can be refreshing to play as Robin or Nightwing. Some of these characters have complete movesets, too, so you can use them in regular gameplay for extended periods of time.
The next character mod we'll see for Arkham Knight is probably Batgirl. After all, she's playable in a recent DLC pack for the game. However, that add-on hasn't been released on PC yet so modders presumably don't have access to Batgirl's model or animations.
Batman: Arkham Knight's mods are only available on the PC version of the game. That's unfortunate because Warner Bros. has actually stopped selling that version due to technical issues. Only the small number of PC gamers who purchased the game at launch have access to it now. Batman: Arkham Knight won't go back on sale for PC until the developers manage to clean up its bugs. A leaked retailer email suggested that won't happen until the fall.
Rocksteady Studios released a small PC patch for Arkham Knight last month to fix some crash issues. The next update, due in August, will address performance problems like low-resolution textures and the locked framerate.
Staff Writer at CinemaBlend.
Your Daily Blend of Entertainment News
Thank you for signing up to CinemaBlend. You will receive a verification email shortly.
There was a problem. Please refresh the page and try again.