Batman: Arkham Knight PC Version Won't Get Batgirl DLC On Time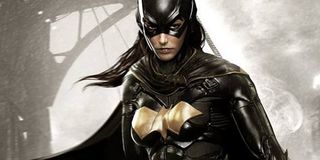 Sorry, PC fans of Batman: Arkham Knight, it looks like you're going to have to wait a bit longer to enjoy the Batgirl DLC, which is due out on consoles July 14. Warner Bros. Interactive Entertainment has announced a delay in order to make sure everything runs smoothly on your platform of choice.
Given Arkham Knight's already rocky recent history on the PC, it should come as no surprise that the publisher is holding off on offering the next big DLC package until it can be, you know, properly tested and stuff. While the highly anticipated DLC will see Batgirl duking it out with the Joker and Harley Quinn on consoles next Tuesday, Warner Bros. announced through its forums this weekend that the content will take a bit longer to arrive on PC.
In case you missed all of the latest Bat-news, Arkham Knight launched for PC in a state that was basically broken for many players. This occurred just a couple of weeks after Steam rolled out a new return policy for games sold through its digital marketplace so, surprise-surprise, this debacle ended up hitting Warner Bros. pretty hard in the ole wallet. As a result, the publisher pulled an almost unheard of move and yanked the game from PC sales until the issues could be addressed.
That, of course, led to the reveal that Batgirl won't be visiting Arkham City as expected on the PC.
"This means that the Batman: Arkham Knight-Batgirl: A Matter of Family DLC will not be available on July 14 for those who are currently playing the PC version of the game," continues the announcement. "We apologize for the delay and only want to make sure that any content that we offer is up to the standards that PC players expect."
If it sounds like Warner Bros. is pouring on the apologies pretty thick, it's because they damn-well better at this point. You can't cut corners on a game release and knowingly sell a busted product, get called on it, and not have to sped quite a bit of time picking up the pieces.
Hopefully WB is planning something beyond promises of quality assurance in the future. The kind of "broken" that Arkham Knight was at launch isn't the kind of bugs and glitches that get through proper testing. Steps were either flat-out skipped or an inferior product was knowingly sold to the public. That, to me, leaves a lot of trust issues up in the air.
Staff Writer for CinemaBlend.
Your Daily Blend of Entertainment News
Thank you for signing up to CinemaBlend. You will receive a verification email shortly.
There was a problem. Please refresh the page and try again.