Battlefield Hardline Beta Begins On PC, Xbox One, Xbox 360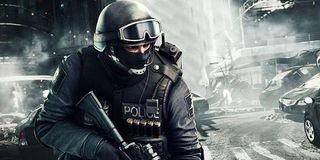 Battlefield: Hardline's open beta has arrived. Shooter fans on Xbox One, Xbox 360 and PC can download the beta client and jump in right now.
If you're planning to play the PC version, here are the system requirements you'll need to hit (via Blue's News):
PlayStation gamers will get a chance to try out the beta as well. They'll have to wait until February 4th to do so, though. The test will run until February 8th on all platforms. After that, we'll have to wait about a month for the official launch.
Hardline's open beta will feature a small sample of the game's maps and modes. Players can try out the new Hotwire mode on the Dust Bowl and Downtown maps. Hotwire's kind of like Gone in 60 Seconds; the criminals must steal a list of cars while the cops attempt to reclaim them. The other new mode featured in the beta is Heist, playable on the Bank Job map. In this mode, the police protect a bank vault while the criminals try to blow it open and transport the loot to extraction vehicles. The match ends if the criminals manage to steal both parcels or if they run out of time.
Dust Bowl also supports the classic Conquest mode. Conquest matches, the signature of the Battlefield franchise, has both teams battle for control points to chip away at the other team's supply of respawns. These battles are characterized by a large player count and plenty of vehicles. The Xbox One, PS4 and PC versions support matches with up to 64 players, while the Xbox 360 and PS3 editions are limited to 24.
In all modes, one player on each team can act as a Hacker. The Hacker is basically Hardline's equivalent of Battlefield 4's Commander. They can help their team locate enemies, jam the opposing team's radar, speed up allies' deployment, and more. Presumably we'll see a mobile app for this Hacker Mode at launch.
During the beta, players will have access to the full multiplayer progression. As they gain experience and cash, they'll unlock new weapons, gadgets and other equipment to help them break or enforce the law. While the cops and criminals have a lot of the military-grade equipment seen in previous Battlefield games, there are also some new items mixed in. For example, criminals can equip grappling hooks or zip lines to move around the map quickly.
I wasn't blown away by the first Hardline beta this summer. In spite of the dramatically different theme, it didn't seem all that different than the military-focused Battlefield games. Due in part to the mixed reactions to the summer beta, Visceral Games pushed back the release date so they could create more features. Perhaps this beta will convince us that this cops-and-criminals spin-off was worth making instead of Battlefield 5.
Staff Writer at CinemaBlend.
Your Daily Blend of Entertainment News
Thank you for signing up to CinemaBlend. You will receive a verification email shortly.
There was a problem. Please refresh the page and try again.