Battlefield Hardline Xbox One Console Revealed, Here's How To Get It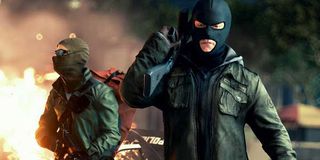 EA and Microsoft are partnering up to release a Battlefield Hardline version of Xbox One. Unfortunately, this limited edition console won't be easy to get.
Microsoft is giving three of these consoles away through a Bing Rewards Sweepstakes. This appears to be the only way that gamers can acquire the console. That would explain why this tiny thumbnail is the only published image of the Hardline Xbox One:
The console's art reminds me a bit of the Call of Duty: Advanced Warfare console thanks to the gray paint job. It's unclear whether it comes with a matching controller as well or just a normal black one.
It's baffling to me that they're willing to put the time and effort into making a limited edition console but not actually take a full-sized photo of the console. There's no excuse not to do it. Your phone has a camera built into it. I mean, do you want people to covet this thing or not?
The prize package also comes with a copy of Battlefield Hardline for Xbox One and a 12-month subscription for games service EA Access. No Kinect is included with the bundle. It's just as well; Hardline doesn't seem to have any Kinect-specific features.
Ten runners up will receive 12-month subs for EA Access. EA Access is an Xbox One exclusive service that lets you download trial versions of select EA games before their release and buy EA digital titles for 10% off. It also includes full access to the following downloadable games:
EA Sports UFC
Battlefield 4
Madden 25
FIFA 14
Peggle 2
Need for Speed Rivals
Plants vs Zombies: Garden Warfare
You have until February 26th to enter the sweepstakes. The winners will be announced on or around March 17th here. The 17th is also the launch date for Hardline here in North America.
Bing Rewards is a loyalty program for Microsoft's search engine. Members earn points by using Bing and then redeem them for coupons, gift cards and sweepstakes entries. This is honestly the first time I've ever heard of this program. Exclusives like this seem like a good of a way as any to get the word out.
Battlefield: Hardline is a spin-off of the Battlefield series in development at Visceral Games. In the single-player campaign, the player is a Los Angeles detective trying to take down a drug ring. The multiplayer, meanwhile, sees teams of cops and criminals duking it out in objective-based matches. I actually enjoyed the recent multiplayer beta a lot, though I have trouble believing I'll like this game more than the main Battlefield series.
Your Daily Blend of Entertainment News
Staff Writer at CinemaBlend.