Play Dragon Age: Inquisition Early Right Now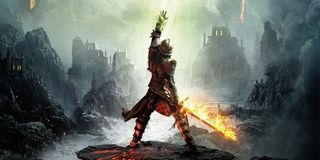 Dragon Age: Inquisition won't officially launch until next week. However, Xbox One owners can start playing the game right now.
Anyone with an EA Access subscription can play six hours from the full version of the medieval RPG. The trial can be found at through the EA Access app on Xbox One.
"Use this time to create your hero, start your story, and explore the living, open world of Thedas," EA says. "Or take on missions with your friends in Inquisition's cooperative multiplayer mode—the choice is yours."
It sounds like the character creation counts toward the six hours. That process might eat up more of your time than you think. You're not just picking between a male or female human this time around. Dragon Age: Inquisition features a Skyrim-like creation process that lets you edit your character's race and other specific physical traits.
EA Access members can then purchase the digital version of Dragon Age: Inquisition through Xbox Live for 10%. Fortunately, they won't have to replay those six hours when the full game is released. All of their progress from the trial version will carry over.
In Dragon Age: Inquisition's campaign, the player leads an army trying to save the realm from a demonic invasion. To accomplish this mission, they'll have to forge alliances, recruit soldiers and supply their forces. They studied at the Captain Kirk School of Leadership, though, so they'll regularly take breaks from the big picture stuff to slay dragons or get some strange.
"During your trial, we'll update you on how many hours you have left to play. Binge and explore the Hinterlands for all six hours at once, or take your time and spread your gaming out over the next few days."
Inquisition also features a standalone, cooperative mode. Up to four players will complete randomized missions together in order to earn loot and XP. While the multiplayer takes place in the same time period as the campaign, your performance won't have any impact on the single-player experience.
"Our goal with Dragon Age multiplayer is not to affect your SP campaign," BioWare said in August. "We simply want to give our fans the chance to play with their friends for the first time in the Dragon Age universe."
EA Access launched exclusively on Xbox One this summer. The premium membership costs $4.99 a month, or $29.99 for a year. In addition to early trials, players also get unlimited access to the following games:
Battlefield 4
Madden NFL 25
FIFA 14
Peggle 2
Need for Speed Rivals
Plants Vs. Zombies: Garden Warfare
Dragon Age: Inquisition will launch in North America on November 18th in North America and on November 21st in Europe. In addition to Xbox One, the game will be available on PS4, PS3, Xbox 360 and PC.
Staff Writer at CinemaBlend.
Your Daily Blend of Entertainment News
Thank you for signing up to CinemaBlend. You will receive a verification email shortly.
There was a problem. Please refresh the page and try again.