Beloved Platformers Are Beginning To Make A Comeback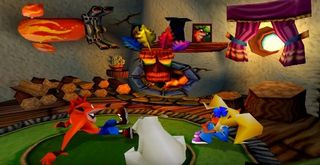 With upcoming titles like the rebooted Ratchet and Clank, Psychonauts 2, Yooka-Laylee and Lucky's Tale, it's obvious that a demand for the lovable, cartoony platformers we used to know and love is heavily increasing. And this could be exactly what the video game universe needs right now.
The video game world has been in quite a place of growth and change. This year, virtual reality is finally going to make its way into the hands of consumers everywhere. We may have gotten life-like graphics with the next-gen systems, but now video games will be life with the introduction of things like Oculus Rift and the PlayStation VR. We are in a state of flux and everything feels a little unstable. Will I even enjoy virtual reality? Will it make me nauseous? Do platformer games need to be in VR? And with all of these questions hanging in the air, it's nice to see that despite yet another shift in video game history, for better or worse, platformers seem to be slowly trickling back.
Back in the 90's and early 2000's, platformers like Crash Bandicoot, Spyro the Dragon, Rayman and even Super Mario Bros. ruled the market for video games. This was before the time of the seemingly indestructible Halo and Call of Duty series, when first-person shooters really took the gaming world by storm. And since their takeover, platformers have seemed to fall by the wayside and out of the spotlight. But now, I'm secretly hoping that is about to change.
I've noticed lately that many more platformer games are not only being created and rebooted, but are also being talked about far more than they have been in the past. The game, Lucky's Tale, is even debuting on the VR scene and made headlines when it was announced as a free addition to each Oculus Rift shipped a launch. Lucky's Tale, as you can see in the gameplay trailer below, looks very similar to the classic platforming styles present in games like Super Mario Bros. and early games like Croc: Legend Of The Gobbos.
Recently, Psychonauts 2 has been drawing in all kinds of attention for its crowdfunded revival on Fig with the help of Double Fine Productions. And Ratchet And Clank, though not a sequel but still a welcomed reimagining, is even getting its own movie around the same time of its release in early April. It could just be a desperate attempt to cling to the hope of the rebirth of platformers, but it seems games like these are on the rise.
So, if platformer games are once again becoming popular, is it so much to ask, again, for a Crash Bandicoot revival? Everyone's waiting and last year at PlayStation Experience when Sony trolled everyone, the hype behind just an inkling of indication that Crash was coming back was insane. Fans lost their minds. While everyone knows whoever brings back the Crash Bandicoot franchise—and does it the right way—will make oodles of profit, we can only keep waiting to see if anyone will make a move to ignite the series again.
Though platformers aren't as shiny and new as games like Tom Clancy's The Division or Horizon: Zero Dawn, they still hold a nostalgic element that draws in both fans of originals and the younger, millennial generation. I believe platformers could help narrow the age gap in the video game industry and continue to drive our gaming methods further into the future. And we'd play them because, well, they're just so much fun to play.
What platformer games are you excited for or what platformers do you want to see come back? Let us know in the comments below.
Your Daily Blend of Entertainment News
Thank you for signing up to CinemaBlend. You will receive a verification email shortly.
There was a problem. Please refresh the page and try again.