Story Details Have Been Released For Psychonauts 2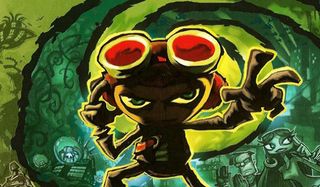 Now that Psychonauts 2 has reached its funding goal, one of the big questions left to be answered is: What's the game going to be about? Well, now we have some details, including the fact that this follow-up takes place basically right after the first game.
It's always nice when a game dev is willing to field questions from the community, especially when said community was partially responsible for funding the development of your game through Fig.
Psychonauts 2 director Tim Schafer recently did exactly that, too, hosting an "ask me anything" for the upcoming indie adventure platformer. Schafer's response to the question pertaining to P2's story has been immortalized on reddit, where fans are going gaga for the details.
According to Schafer, the story for Psychonauts 2 hasn't changed too much from his original plan following the release of the first game. Schafer said he's been keeping notes in the years that followed, as he always hoped he'd be able to return to the game's bizarre world.
I imagine that paragraph has OG Psychonauts fans squealing with glee, yes? Since the game takes place just a few hours after the conclusion of the PlayStation 2/Xbox original, it looks like we have plenty of reason to go back for a refresher between now and the launch of Psychonauts 2.
Schafer further explained that Raz's family history will come into play in Psychonauts 2, as well as some resolution for his budding romance. As for powers, some fan-faves from the original game will be joined by some new additions to Raz's arsenal.
In case you're not familiar with the crowd-funding site mentioned at the top of this article, it's because Fig is a pretty new venture. It's the first such funding source that allows folks who invest in a project to actually see a return on their investments. The funding wrapped up (quite successfully, I might add) a few weeks back, but you can certainly check out all of the details if you want to better understand how the process works.
Now that we have some basic details, it's time to sit back, relax and wait for the team at Double Fine Productions to pull back the curtain a bit further.
Your Daily Blend of Entertainment News
Staff Writer for CinemaBlend.