BioShock Gets Huge Vote Of Confidence From Take-Two CEO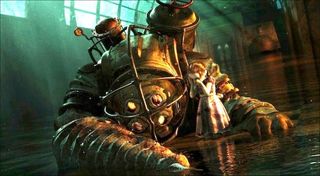 After BioShock: Infinite the series has been dormant ever since. The game created a lot of discussion and was somewhat controversial for groups, but that hasn't stopped it from being a top priority at Take-Two Interactive, according to CEO Strauss Zelnick.
PC Gamer did a quick write-up about the current situation involving BioShock and where it stands in the company at the moment. According to Zelnick he revealed that the series is a priority for Take-Two and that it's in the hands of 2K Games at the moment...
Zelnick had also waxed poetics on some of Rockstar Games franchises as well, name dropping games like Grand Theft Auto and Red Dead as games that don't necessarily have specific timetables when they actually release. They could come fast or they might arrive slow and late.
In the case of BioShock, they see it as a franchise that can be used to help buffer sales in between the major releases. They put in the same category as Gearbox Software's Borderlands, another reliable franchise that's pegged to have a third game in the series.
However, one of the things that has completely stumped a lot of gamers is at what point will we see a new BioShock and how will it be handled now that Ken Levine has moved on to another project and Irrational Games shut its doors?
According to Zelnick, 2K Marin is now in charge of the development of the game and they're the same minds who helped out with the first two BioShock titles, and also worked on The Bureau: XCOM Declassified... a game that was mostly not very well received despite the fact that I thought it was kind of cool.
The future of the series seems to be a toss-up as far as story and art direction goes. The first two games took place in the city of Rapture under the water, while the third game took place up high in the sky in the floating city of Columbia.
While Rapture had a really distinct look about it and was visually daunting and haunting, I actually preferred the somewhat whimsical depiction of Columbia and its state fair appeal with the bright aesthetics and flying rail-way system.
I'm curious what sort of direction they'll take with the newest game and whether or not they'll focus more on pushing a new kind of interactive concept or focus on capturing the attention of gamers with a really distinct art-style and atmosphere?
I'm looking forward to see what they come out with regarding the series and whether or not they'll be able to innovate beyond what was achieved in the original BioShock and in BioShock: Infinite.
Staff Writer at CinemaBlend.
Your Daily Blend of Entertainment News
Thank you for signing up to CinemaBlend. You will receive a verification email shortly.
There was a problem. Please refresh the page and try again.