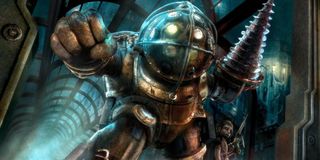 A year after BioShock was released on iOS, 2K Games has removed the shooter from the App Store.
The mobile port of BioShock was rendered unplayable by iOS 8.4, released in late June. 2K Games promised to release a patch to make the game compatible with the updated operating system but that never happened. They quietly pulled the game from the App Store. Many fans hoped they would soon add the game back with the needed fixes.
Today, though, customer support confirmed to a fan that the mobile BioShock won't be returning to the App Store:
BioShock iOS was a port of the 2007 shooter that started the series. The developers at 2K China had to make some compromises to get the game on mobile devices. The graphics were downgraded and, unless the player had a Bluetooth controller, they had to use virtual buttons on the touchscreen to control their character. The reviews seemed to agree it was the worst version of the game on the market.
Nonetheless, it was still BioShock in spite of these problems. The whole game was there. It wasn't some freak mutation, like that Dungeon Keeper game that regularly hits you up for cash. I'm surprised 2K wouldn't consider the port worthy of continued development, especially when the launch was only a year ago.
There's a glimmer of hope for mobile gamers, though. Touch Arcade notes that customer support isn't always aware of updates in development. They point to the recent kerfuffle over The World Ends With You's mobile port as an example of this. World Ends With You was broken by an iOS update and eventually fixed, even though the company initially said that the game was being shut down. It's possible there's a similar miscommunication going on at 2K.
Your Daily Blend of Entertainment News
Staff Writer at CinemaBlend.