BioShock Creator Reveals First Details About His Next Game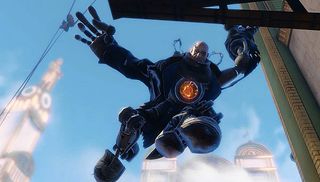 The first meaningful pieces of information about Ken Levine's next game are finally being revealed. But the man behind BioShock is still keeping plenty of secrets for himself.
Levine's upcoming title hasn't even been announced yet, but the fact that he's actively developing something is newsworthy for most hardcore gamers. So today's announcement, albeit minor, carries a lot of weight in the gaming industry.
Here, I'll let Levine spill the beans:
It's not really surprising that Levine has chosen Unreal Engine 4, because every single BioShock title was built with an Unreal engine. But, this is the first time that he has dipped his toes into Unreal's fourth generation.
Back in January, Levine spent an entire day answering questions about his upcoming game on Twitter. And while he didn't accidentally reveal any specific details, he did say that he's leaning toward a third-person perspective and a "sci-fi-ish" setting.
Other than that, we don't know much about the game. However, based on the moves that Levine's made over the last 12 months, I think he has something interesting up his sleeve.
Last year, Levine announced that Irrational Games would be "winding down." After nearly two decades of big-budget development, he turned BioShock over to the publisher so that he could "focus entirely on replayable narrative."
This is a refrain that he's repeated a lot recently.
For Levine, gaming is an artistic medium that hasn't been fully explored yet. Most games force players to experience a single, linear narrative similar to those found in television, movies, and literature. But Levine is working on a mechanic that would break the story into its most basic elements, which could then be reconstructed into a number of different forms.
"Narrative Legos" is the phrase that he uses to describe this storytelling philosophy. And even though the concept totally confuses me, I can't help but feel like Levine's next game will have a major impact on the industry.
If you're interested in learning more about these "Narrative Legos," check out Levine's GDC presentation:
Your Daily Blend of Entertainment News
Your Daily Blend of Entertainment News
Thank you for signing up to CinemaBlend. You will receive a verification email shortly.
There was a problem. Please refresh the page and try again.