BioWare Hasn't Given Up On Jade Empire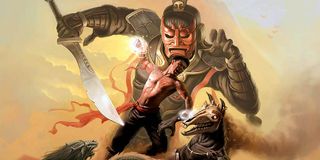 It's been nearly ten years since fantasy martial arts game Jade Empire debuted on Xbox. Many fans have given up on hope of a sequel but BioWare hasn't.
"Well there's always hope," said Aaryn Flynn, general manager of BioWare Edmonton and Montreal. "Both [Dragon Age executive producer Mark Darrah] and [Dragon Age creative director Mike Laidlaw] worked on Jade Empire, so they're advocates for it in the studio (so is Matt Goldman, DAI's Art Director). I worked on it too!"
"Our plate is awfully full right now, but the idea to go back to the universe does come up pretty regularly. Mark and I spent a solid two hours in my office talking about it not long ago..."
Mark Darrah, participating in the same Q&A with players, echoed Flynn's sentiment: "Never say never but no current plans."
BioWare's said similar things in recent history. Three years ago, Chris Priestly said he hoped they would return to the series but they had no plans. A year before that, BioWare co-founder Ray Muzyka said the series was "near and dear to us."
"We've been talking a lot about [Jade Empire] actually on and off over the years," said Muzyka at the time. "It's an IP, it's a setting that we're really passionate about, and we still are. Both Greg and I were big believers in the IP. We're just looking for the right way to deploy it."
"We have a lot of different projects now on a lot of different platforms, and you might see some of that [Jade Empire] in the future. You never know."
The passion for Jade Empire is clearly there. However, BioWare can never seem to find the time for a sequel. They're always finding other projects to work on instead. A few years after Jade Empire's debut, they launched the Mass Effect and Dragon Age franchises. They've become the company's go-to single-player franchises since then. BioWare's attention is also divided between MMO Star Wars: The Old Republic and a new mystery project.
"We do have a new IP in the works (the team is meeting and reviewing it as I type this)," Flynn said. "So far so good, and despite being a ways out the buzz in the studio is definitely building."
I get why Jade Empire 2 hasn't happened yet. I'm sure it's hard to convince EA that a sequel to a ten-year-old game is more worthy of resources than Dragon Age, Mass Effect or Star Wars games. The ancient China-inspired setting and real-time, hand-to-hand combat were a potent combination, though, and I do hope that BioWare finds the time to revisit the series someday.
Your Daily Blend of Entertainment News
Staff Writer at CinemaBlend.
Your Daily Blend of Entertainment News
Thank you for signing up to CinemaBlend. You will receive a verification email shortly.
There was a problem. Please refresh the page and try again.