Is Black Ops 2 The Next Call Of Duty Game?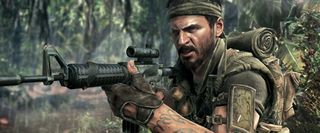 This fall, it's Treyarch's turn to release a new Call of Duty game. A new domain registration suggests that they'll be creating a sequel to 2010's Call of Duty: Black Ops.
Fusible notes that blackops2.com, first registered in May 2010, has changed hands. It previously used Go Daddy's Domains by Proxy service but now utilizes the privacy service from internet brand protection company MarkMonitor. Activision is one of the clients of MarkMonitor.
In August, Activision purchased several sequel-sounding domain names, all the way up to BlackOps6.com. Fusible's theory is that someone snagged the domain for BlackOps2.com as soon as the first game was announced, and then sat on it until Activision paid them for it. Seems like a nice way to make a buck.
Even if Activision did in fact buy this domain, we'll have to wait awhile to find out whether they're actually going to use it. They tend to announce new Call of Duty titles in late Spring. Black Ops was announced in April 2010, while Modern Warfare 3 was revealed in mid-May.
Black Ops was the first Treyarch-developed COD game not set in World War II. Players took on the role of special forces operatives performing missions throughout the Cold War. The Cold War era lasted several decades so there's plenty of raw material there for sequels. After all, look how many games Treyarch and Infinity Ward got out of World War II.
Staff Writer at CinemaBlend.
Your Daily Blend of Entertainment News
Thank you for signing up to CinemaBlend. You will receive a verification email shortly.
There was a problem. Please refresh the page and try again.