Blazing Star Brings Bullet Hell To iOS And Android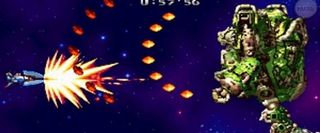 Classic Neo Geo bullet hell title Blazing Star is back for another round of quick flying and even quicker shooting as SNK Playmore announces it worldwide re-release on iOS and Android devices. Back during the day, Blazing Star was famous for its high-end graphics (yeah, that was back in the day) and crisp visual effects. It helped keep SNK's name as a recognized leader in arcade gaming.
Aliens are invading and its your job to protect the planet. This being the future and all, that means you get to jump behind the cockpit of one of six unique fighters, each with its own special "charged shot break," a weapon that can just about clear the screen of enemies.
According to SNK Playmore, they're offering "more than a perfect port" with the releases of Blazing Star, offering the standard Arcade Mode, as well as a new Mission Mode that lets the player jump straight into any previous played level. No more grinding through the entire game just to make it to the same overpowering boss. Now you can jump in to your favorite section or one that's been giving you an especially hard time in order to perfect your timing and learn enemy patterns.
Co-op has been kept intact for this mobile release of Blazing Star thanks to Bluetooth and online leaderboards let you see how your skills stack up to the rest of the alien-blasting world.
Blazing Star is available now for iOS and Android devices for $2.99. For additional information, visit the game's page on the SNK Playmore official website.
Your Daily Blend of Entertainment News
Staff Writer for CinemaBlend.