Blizzard Apologizes For Diablo 3 Server Problems, Delays Real Money Auction House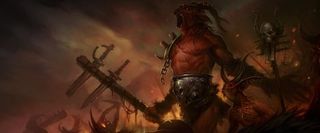 Today Blizzard Entertainment sent out a letter thanking Diablo 3 owners for picking up the game this week. They also took the opportunity to apologize for the server problems that they've experienced.
"We sincerely regret that your crusade to bring down the Lord of Terror was thwarted not by mobs of demons, but by mortal infrastructure," said Blizzard. "As many of you are aware, technical issues occurring within hours after the game's launch led to players experiencing error messages and difficulty logging in. These issues cropped up again last night for the Americas and Europe servers. Despite very aggressive projections, our preparations for the launch of the game did not go far enough."
What makes server outages especially aggravating with D3 is that the game requires a persistent connection. Even if you're playing single-player, you need to be hooked up to Blizzard's servers. This always-on system may cut down on hacking and piracy but the flipside is that when the server is down, you can't play period.
The company added that they've made optimizations throughout the past two days to help their servers handle the load. Early this morning, they took down the North American servers briefly for maintenance as well. Each region should expect maintenance time as Blizzard tries to implement improvements.
Moving forward, Blizzard wants to make sure that they can maintain server stability. To accomplish that, they're going to put off the release of the real-money auction house for the game. The real-money auction house, which allows players to buy and sell items for real world currency, was originally slated for a May 22nd launch. Blizzard hasn't provided a new target date for this feature yet.
One of the early issues players have experienced with the game was with the Achievements systems. In some cases, Achievements weren't earned when they should have been or they disappeared from players' lists. Blizzard says that they're working on an update targeting this problem.
My personal experiences with D3 have been fairly painless so far. I heard that Tuesday morning and afternoon were a mess but that night was pretty smooth. Other than a brief period of outage last night, Wednesday wasn't too bad either. Hopefully the game stabilizes even further in the coming days.
Your Daily Blend of Entertainment News
Staff Writer at CinemaBlend.
Your Daily Blend of Entertainment News
Thank you for signing up to CinemaBlend. You will receive a verification email shortly.
There was a problem. Please refresh the page and try again.