Borderlands 2 Bloody Harvest DLC Celebrates Halloween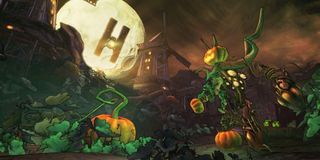 Today Gearbox began a new phase of Borderlands 2 downloadable content. TK Baha's Bloody Harvest is a short, Halloween-themed adventure that pits the player against a new foe.
The town of Hallowed Hollow is being terrorized the Pumpkin Kingpin. A zombified Teddy Baha asks players to put a stop to the Kingpin's reign. Players will travel into the neighboring cemetery to defeat this monstrosity and their skeleton. During the adventure, they'll find candy that give them temporary buffs.
If you defeat the Pumpkin Kingpin, players will be able to add his head to their collection of customization items. There's incentive to beat him again, too. With each defeat, the Kingpin becomes more powerful. He'll be more than a match for you and three friends in time.
Bloody Harvest is the first of several Headhunter Packs planned for Borderlands 2. Each Headhunter Pack is cheap ($2.99 in the case of Harvest) and designed to be played in one sitting. They might be a bit of a disappointment compared to Tiny Tina's Assault on Dragon Keep, arguably the game's peak in terms of story-telling and gameplay. Here's what IGN said in their review:
Still, these Headhunter Packs are new content, which is something in short supply a year after the game's release. They might be the last DLC you'll get for Borderlands 2, too.
Borderlands 2 is currently in the middle of a month-long Loot Hunt event, launched to celebrate the Game of the Year Edition. Each day, players have a new target to kill. Eliminating these targets gives you unique loot. It also makes you eligible for special prizes, such as an NVIDIA video card or PlayStation Vita. Gearbox is also giving out one grand prize of $50,000. The Loot Hunt will end on November 7th.
Image 1 of 2
Image 2 of 2
Staff Writer at CinemaBlend.
Your Daily Blend of Entertainment News
Thank you for signing up to CinemaBlend. You will receive a verification email shortly.
There was a problem. Please refresh the page and try again.