Borderlands 2 Is Most Played Game Of 2012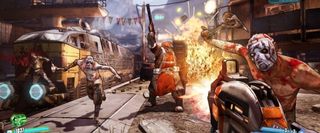 Curious what game really has everyone's jimmies sparking out electricity and keeping a fixed smile on their faces? Well, if the headline didn't give it away, according to Raptr's statistics, Borderlands 2 has been the most played game of 2012, and not Diablo III, despite the strong start during the middle of the year.
In fact, Raptr draws direct comparisons between Borderlands 2 and Diablo III, showcasing that there was 200% more activity in Borderlands 2 over Diablo III in the first month of release. This means that Diablo III had a rather poor showing of retention rate amongst users and had very poor sustainability amongst the larger demographic who actually purchased the game. I'm sure your imagination surrounding the launch of Diablo III can piece together why it had such a massive 65% dropoff rate shortly after launch.
Dennis Fong, CEO of Raptr commented about the findings, saying...
In the previous year, Call of Duty: Modern Warfare 3 won as the most played game, which is unsurprising given its multiplatform accessibility.
What many of you might find surprising is that Capcom's Dragon's Dogma is the most played new IP of the year, edging out Dishonored, Sleeping Dogs and TERA. The combat in the game was infectious and it had a large enough world to keep the replay factors tight, so it's easy to see how Capcom's new RPG kept the masses pleased.
You can check out the complete list from Raptr's findings below. Take into account that they were unable to properly measure PS3 and Wii gameplay measurements. The company measured individual play length sessions, total playtime share and average session length to surmise their findings.
· Most Played New Game – Borderlands 2 (Gearbox/2K Games)
· Most Played Game (Released Anytime) – Call of Duty: Modern Warfare 3 (Treyarch/Activision)
· Biggest Boost from User-Generated Content – Portal 2 (Valve)
· Most Played Long-Awaited Sequel – Borderlands 2 (Gearbox/2K Games)
· No Bathroom Break – Borderlands 2 (Gearbox/2K Games)
· Most Played XBLA Game – Minecraft (4J Studios/Mojang)
· Most Played New IP – Dragon's Dogma (Capcom)
· Most Successful Paid to Free-to-Play Game – Star Wars: The Old Republic (BioWare/EA)
Staff Writer at CinemaBlend.
Your Daily Blend of Entertainment News
Thank you for signing up to CinemaBlend. You will receive a verification email shortly.
There was a problem. Please refresh the page and try again.