Borderlands 2 Tiny Tina DLC Isn't The Last Add-On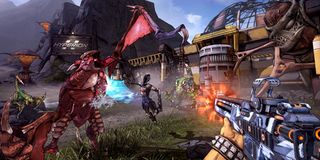 Gearbox Software isn't done with Borderlands 2 just yet. During the latest Nerdist podcast, Gearbox boss Randy Pitchford said that they're planning to produce additional DLC for the game.
"We did a Season Pass for Borderlands 2, and the Season Pass was like, 'Hey, if you buy the Season Pass we would be doing four campaign add-ons and you can buy all four of them for the price of three, if you buy upfront,'" Pitchford told Nerdist. "So everyone was under the expectations that those would be the four DLC's and that's it."
However, Gearbox has shown a tendency to produce DLC outside of the Season Pass plan as well. For example, Borderlands 2 was accompanied at launch by a new Mechromancer character. In May, they released another playable character called Krieg. This past week brought a new set of character customization options. Each of these add-ons had to be purchased individually.
Borderlands 2's most recent DLC, Tiny Tina's Assault on Dragon Keep, was the fourth and final Season Pass add-on. In Assault on Dragon Keep, players will experience a medieval fantasy adventure narrated by psychopathic teen Tiny Tina. Players will battle an all-new selection of Dungeons & Dragons-inspired monsters like dragons, skeletons and orcs. They'll also help a dwarf or two. In the process, they'll earn themed loot including grenades based on magical spells.
Although Dragon Keep was a sizable add-on, it's not Gearbox's grand finale for Borderlands 2. They've got additional plans for content, Pitchford says.
"We are going to do more, we are going to do some other things. I don't have details exactly of it yet because we're not ready to announce what the other things are, but when the next campaign DLC comes - Assault On Dragon Keep - [that won't be] the end of it. We got more stuff in the hopper that we're planning and getting pretty excited about. So if you're a Borderlands 2 fan you don't have to be afraid that that's the end of it"
Season Pass holders might not be happy about the prospect of shelling out more money for additional content. That's kind of the appeal of a Season Pass: pay one fee and then get all of the post-release content. Remember, though, that Gearbox released the Ultimate Vault Hunter Upgrade Pack for free to Season Pass holders. That was a pretty nice add-on, too; it raised the level cap by 11 and added a new tier of weapons for players to acquire. Maybe Gearbox will make some of the future Borderlands 2 content free for Season Pass members as well?
Staff Writer at CinemaBlend.
Your Daily Blend of Entertainment News
Thank you for signing up to CinemaBlend. You will receive a verification email shortly.
There was a problem. Please refresh the page and try again.