Borderlands 3 Already A Priority For Gearbox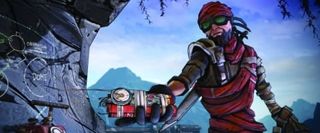 Even though we're all still talking about Borderlands 2, it appears Gearbox Software is already eying possibilities of the threequal according to lead writer Anthony Birch. I would like to hope that they're planning the third game for the next gen consoles, because it seems like they kind of hit the technical ceiling with Borderlands 2.
In an interview with Revision3 [via The Game Effect] Burch is asked if Gearbox has any plans for Borderlands 3 and about the series as a franchise, to which he excitedly exclaims...
Well that's good news. At least Gearbox is already planning ahead and thinking about the future. But seriously, they need to hold off on Borderlands 3 until the new hardware gets here so we can actually see bigger and better things. I don't need to remind people how the PC version of the game is light-years ahead of the console version and has a completely different physics-setup thanks to Nvidia's PhysX.
It would be even cooler to see more physics-based weapons, more destructibility, perhaps a few procedurally generated areas for exploration, more buildings that can be destroyed, more limbs that can be severed, more vehicles that can be demolished. In other words, everything needs to be bigger and better but that's not going to happen with seven year old technology.
You can check out Gaming Blend's review of Borderlands 2 to see if the game suits your taste in first-person shooters or you can hide in a cave for a few years and emerge when Borderlands 3 is ripe and ready for purchase.
Your Daily Blend of Entertainment News
Staff Writer at CinemaBlend.