Call Of Duty: Advanced Warfare Aiming For Spec Parity Between PS4, Xbox One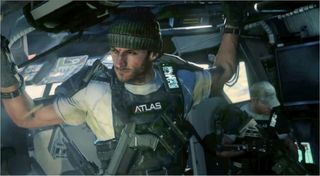 After recently revealing that Call of Duty: Advanced Warfare for the Xbox One will look the same as it did at this past year's E3 event, Sledgehammer has also revealed that they will be aiming for spec parity across both the PlayStation 4 and the Xbox One.
Gaming Bolt managed to get in touch with Sledgehammer Games' creative director Bret Robbins, where he discussed the game's resolution, frame-rate and some of the technology underneath the game's hood.
One of the straightforward questions asked by Gaming Bolt related to the resolution and frame-rate parity between the Xbox One and PS4. Last year Call of Duty: Ghosts ran at 720p on the Xbox One and at native 1080p on the PlayStation 4. The specs of the PlayStation 4 have been pegged to be 50% more powerful than the Xbox One in raw performance, and in the case of Call of Duty: Ghosts, it was rendering twice as many pixels per frame.
According to Robbins, he had this to say about whether or not we would see the same disparity in this year's Call of Duty outing...
It should also be noted that before launch, the PS4's version of Call of Duty: Ghosts was brought down to native 720p in order to maintain parity. Later, post-release, the PS4 version of the game was buffered back up to native 1080p, causing a bit of an uproar in the game community that carried the name "Resolution-gate".
For now, the final resolution has yet to be determined for Call of Duty: Advanced Warfare for the Xbox One or PS4. Some pixel counters have estimated that the game may be somewhere between 810p and 882p.
Nevertheless, Robbins didn't dwell on the potential performance gap between the two consoles and instead went on to discuss some other technology powering the game, stating...
The recently released a video of the updates with a behind-the-scenes look at the tech powering Advanced Warfare. The team is utilizing dual skeletal tracking for both the motion actors and the exo-skeletons that will be used in the game itself.
As for the resolution and frame-rate, it looks as if the team will opt for keeping things on par between both the Xbox One and the PS4, a trend that may continue for as long as possible with many multiplatform titles.
Call of Duty: Advanced Warfare is scheduled to release for the older generation consoles and the current generations (sans the Wii U) beginning November 4th. You can learn more about the game by paying a visit to the official website.
Staff Writer at CinemaBlend.
Your Daily Blend of Entertainment News
Thank you for signing up to CinemaBlend. You will receive a verification email shortly.
There was a problem. Please refresh the page and try again.