Call Of Duty: Advanced Warfare Doesn't Have Branching Storylines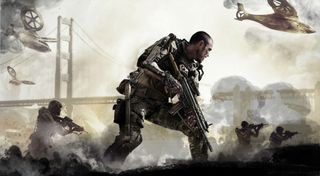 Call of Duty has regularly been a first-person shooter game that runs on a very linear story setup. Oftentimes gamers will just get thrown into the mix and play out the action as if it's a slightly deeper take on the on-rails arcade shooter... at least, mechanically. Call of Duty: Advanced Warfare won't be changing that trend.
GamingBolt has been on a roll lately with landing exclusive interviews with key members of the development team for various high-profile games. One of the interviews they managed to land was with Advanced Warfare's creative director, Bret Robbins.
They put forward some questions about the potentiality of story-branching in Call of Duty: Advanced Warfare, which is due for release this fall, and Robbins told them that...
This also probably makes the most sense, budget-wise, because they only had Kevin Spacey for a limited amount of time (I imagine) and they most likely wanted to get the most out of him that they could. Having branching stories and requiring the actors to hang around and record multiple ways for a scene to play out probably would have broke their budget (although it's not like Activision couldn't afford it).
Given that the team is really focused on bringing a high-quality experience to the table (more-so than in year's past) it's not hard to see why they would forgo the use of multiple storylines or branching story elements for the game.
However, on the flip-side of that coin there's also the question of how well it may have boosted the game's appeal amongst the naysayers? If you remember, during the release of Treyarch's Black Ops series we saw that the story really was an important aspect of the game and that it not only played a very important part in the gaming experience but it was also one of the highly praised features of the game.
Players were able to choose from various options during key scenes that radically changed the outcome of the game. Certain characters would live and other characters would die. This setup some very interesting moments throughout the game so that you were always curious what would happen next, or more-so, what would happen if you decided to play the game again?
Call of Duty: Black Ops and Call of Duty: Black Ops 2 actually managed to offer gamers plenty of opportunities for strong replay values in the single-player portion of the game and that's a rarity in today's first-person shooter games. Sadly, Call of Duty: Advanced Warfare won't be featuring that same level of immersion or replayability. Still, Sledgehammer Games will be focusing on trying to deliver quality over quantity.
You can look for Call of Duty: Advanced Warfare to launch on the Xbox 360, PS3, PS4, Xbox One and PC on November 4th. You can learn more by visiting the official website.
Staff Writer at CinemaBlend.
Your Daily Blend of Entertainment News
Thank you for signing up to CinemaBlend. You will receive a verification email shortly.
There was a problem. Please refresh the page and try again.