Call Of Duty: Advanced Warfare At E3 Will Look That Way On Xbox One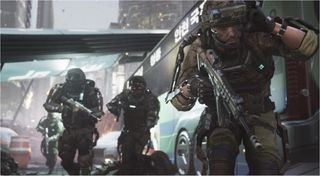 Sledgehammer Games wanted to clear the air about their upcoming first-person shooter, Call of Duty: Advanced Warfare: it's not going to be downgraded from what you saw at E3. According to the development team, "what you see is what you get".
Total Xbox has a collection of quotes from Sledgehammer Games' co-founder Michael Condrey, who talked extensively in an interview in the latest issue of the Official Xbox Magazine, where Condrey stated that...
That's a direct jab at the last couple of E3 events where certain publishers had highly anticipated games running on high-end PCs in order to show-off their games. This became especially egregious when it was found out that Watch Dogs had suffered a series of downgrades in order to run on home consoles compared to what was showcased at E3 2012.
Condrey and the rest of the studio have continually stated in trailers and promotional ads that the game was and has been running on Xbox One hardware, even to the game's resolution detriment, where it was noted that Advanced Warfare is running within the region of 810p on the Xbox One.
Even still, the game has supposedly been in development for quite some time, enabling the team to make full use of the Xbox One's hardware, opposite of Call of Duty: Ghosts...
For now, Call of Duty: Advanced Warfare has actually received a lot more positive praise than its predecessor from Infinity Ward, Call of Duty: Ghosts. Most consider the latter a poor cross-gen port given that it only ran at 720p on the Xbox and suffered from some massive performance problems on PC.
This time around Sledgehammer is hoping that the game will be a proper release for both consoles and PC. There's also a bit of leeway for Sledgehammer given that another developer is handling the Xbox 360 and PS3 version of the game, so there's no longer a strain on the original team focus their efforts on possibly six systems.
Strange as it may be, but Call of Duty this year actually has more positive hype heading into its release standing opposite of Battlefield: Hardline. The latter has received a lot of criticism and even managed to gather enough ire from the gaming community to have a petition made that goads EA to just make it DLC for Battlefield 4; other gamers are simply telling the rest of the community not to buy Hardline at all.
Call of Duty: Advanced Warfare is set for release on the seventh-gen and eighth-gen consoles starting November 4th. For more info feel free to visit the official website.
Staff Writer at CinemaBlend.
Your Daily Blend of Entertainment News
Thank you for signing up to CinemaBlend. You will receive a verification email shortly.
There was a problem. Please refresh the page and try again.