Call Of Duty: Advanced Warfare Minimum System Requirements Revealed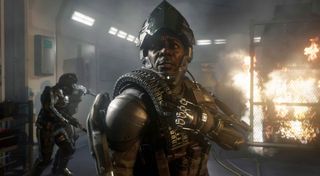 Activision is gearing up for the release of Call of Duty: Advanced Warfare on PC, and that means that it's time to find out if your computer is ample enough to handle all the graphical goodness Sledgehammer Games has in store with the annual first-person shooter.
PC Gamer managed to get their eyes on the minimum system requirements for Call of Duty: Advanced Warfare when it was posted on the Steam page. So what's the minimum PC specs that you'll need to rock Advanced Warfare?
You can check out the minimum requirements below.
The minimum requirements:
OS: Windows 7 64-Bit / Windows 8 64-Bit / Windows 8.1 64-Bit
Processor: Intel CoreTM i3-530 @ 2.93 GHz / AMD Phenom II X4 810 @ 2.80 GHz or better
Memory: 6 GB RAM
Graphics: NVIDIA GeForce GTS 450 @ 1GB / ATI Radeon HD 5870 @ 1GB or better
DirectX: Version 11
Network: Broadband Internet connection
Hard Drive: 55 GB available space
Sound Card: DirectX-compatible
Let's go over some of these specs here. The operating system and processor requirements seem about right, but the RAM and GPU seems pretty steep for minimum requirements. If you don't remember, last year Call of Duty: Ghost also required some steep specs from a PC, but it turned out that the requirements were actually artificially inflated. Some rumors spread around that Activision and crew were doing that to compete with the very impressive looking Battlefield 4 at the time and needed to convince people that Ghost was up to par with the competition.
Interestingly enough, there are no recommended requirements. If the minimum requirements are as high as they are, what sort of requirements will the recommended specs look like?
I mean, the main thing is that if the minimum is 6GB of RAM what will the recommended amount of RAM look like? It doesn't seem surprising that 8GB could be the recommended specs just because the Xbox One and PS4 rock those numbers. As for the CPU... I'm curious what the recommended output is like in that regards? As we all know, both the Xbox One and PS4 have slightly less than high-end quality CPUs, so even though they have octocore APUs, they aren't all that powerful. I do wonder if the PC version will have higher CPU requirements.
The game itself is still standard-fare first-person shooter, but the developers have been dumping everything but the kitchen sink into the game's features and modes. There are tons of new guns, tons of new customization features and plenty of new ways that could make the multiplayer a lot more interesting. It's still not a game I would play, but I think fans might enjoy it. There's just so much new content that they've tossed into this game that it's hard to deny that it isn't the sort of thing that hardcore FPS fans would fawn over.
Sledgehammer and Activision are prepping for the release of Advanced Warfare, which is due to drop this November. Need more info? Feel free to pay a visit to the official website.
Your Daily Blend of Entertainment News
Staff Writer at CinemaBlend.