Call Of Duty: Advanced Warfare Patched For PC; Console Updates Pending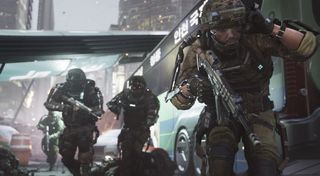 Big games these days don't seem to make it onto store shelves in complete forms. We're oftentimes looking at games that have small hiccups here or there upon release, and other times looking at games that have major problems by the time they ship. Call of Duty: Advanced Warfare falls into the camp of having small to moderate launch woes, but Sledgehammer Games is already hard at work on fixing those issues.
Over on the Call of Duty community website, a list of the patch notes for the PC version of Advanced Warfare was made public, so gamers get to see exactly what is being worked on, what has been worked on, and what fixes will keep the game running clean and pristine. You can check out the full list of fixes below.
• Adjustment to the in-game chat names notifications placement.
• Fixed Prestige reset issues, including emblems and challenges.
• Fixed marksman and camo challenges to not reset when you Prestige.
• Connectivity optimizations for game servers.
• Fixed issues with Ping Bar not updating correctly.
• Fixed stats not accumulating towards leaderboards after Prestiging.
• Adjustment to challenges to unlock camos for weapons.
• Fixed round-based game modes, affecting Win/Loss ratios.
• Implemented ability to unlock eSports Rule options in Private Match.
• Fixed weapon reloads counting as speed reloads in certain circumstances.
• Added description to reload informing that you can double-tap to speed reload.
• Fixed DoubleXP splash, so it doesn't show up in Private Match, Combat Readiness Program, or Exo Survival mode.
• Showing 4x or 2x based on whether a loot DoubleXP item exists
• Add DoubleXP icon to medal splashes when DoubleXP is active.
• Fixed rare save game issue affecting playthrough progression
• KC score limit increased to 85 per match.
Over on the website it's made known that the PC patch was going up first but the PS4 and Xbox One will be receiving their respective patches very soon...
Activision and Sledgehammer Games seem to be working quickly to address some of the concerns. However, one of the larger problems is still the lack of dedicated servers. Funnily enough, gamers had been clamoring atop the lap of Microsoft praising the Xbox One's supposed dedicated servers for games like this. However, it turns out that Advanced Warfare is still using peer-to-peer connections. Embarrassing right?
The P2P and lack of dedicated servers issue was highlighted last week when it was also revealed that Advanced Warfare lacked one of the more important PS4 features: Share Play.
Nevertheless, Sledgehammer has been keen and vigilant in addressing a lot of the issues as quickly as possible, opposite of Ubisoft and Assassin's Creed Unity's funky frame-rate fiasco.
I also have to give Sledgehammer props for getting Advanced Warfare out there in a way where gamers got to enjoy it day-one without all the drama and performance issues of other games. It's sad that publishers and developers have to be commended for launching their games in a proper, playing order on launch day. But these are the times we're living in, folks.
Staff Writer at CinemaBlend.