Modern Warfare 3 Earns $1 Billion Faster Than Avatar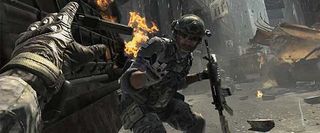 James Cameron's film Avatar pulled in $1 billion in a mere 17 days. Call of Duty: Modern Warfare 3, in spite of not having any blue horses, has managed to eclipse this mark. The game has earned $1 billion in its first 16 days on shelves.
"Engagement of our Call of Duty audience continues to rise around the world," said Bobby Kotick, Activision Blizzard CEO. "Call of Duty as an entertainment franchise has made an indelible mark on popular culture and its broad and continued success is further validation that audiences increasingly value interactive experiences over passive experiences."
Modern Warfare 3 earned $775 million in its first five days, a record for any entertainment product. Its launch day haul was $400 million. That was an entertainment industry record as well.
Even after players have purchased MW3, they're giving Activision money. The online service Call of Duty Elite now has over one million premium subscribers. Elite allows players to join and create clans, share videos, participate in contests, and more.
"Call of Duty has become that rare entertainment franchise that transcends its own genre. Core gamers love it, as our stellar reviews show. But every year, new people are drawn into Call of Duty," said Eric Hirshberg, CEO of Activision Publishing. "And while the franchise continues to set records, our fans still seem to want more, demonstrated by our record setting start on Call of Duty Elite. We are committed to helping everyone connect, compete and improve their game, Call of Duty style."
Is MW3 worth your money? Check out our review to find out.
Staff Writer at CinemaBlend.
Your Daily Blend of Entertainment News
Thank you for signing up to CinemaBlend. You will receive a verification email shortly.
There was a problem. Please refresh the page and try again.