Call Of Duty: Black Ops 3 Will Star Marshawn Lynch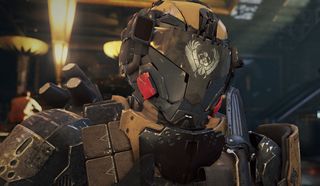 NFL superstar Marshawn Lynch has made the leap from the field to the first-person shooter scene, as he has a starring role in the upcoming Treyarch and Activision release Call of Duty: Black Ops 3. The star was featured in a recent article with a few clips of his motion capture session made available to the public.
ESPN does a detailed write-up of Lynch's involvement with Call of Duty: Black Ops 3 and how he came in to get a facial scan, 3D-scanned and then participated in a short motion capture session.
There used to be a time when it would take weeks to model a character in-game but it's amazing to see characters come together so quickly thanks to today's advanced technology.
Lynch not only has his character in the game but it will play a vital role during the highly destructive and Hollywood-inspired set-pieces. We learn that one of the scenes in Black Ops 3 sees Lynch and his crew of hardened mercenaries at a bar when the bad guys come in and a shootout ensues. The dialogue that they improv on the fly actually sounded pretty legit and seemed natural, as Lynch and his crew talked about where they were from and seemed to be getting chummy (personally, I'm no fan of Call of Duty but it would be pretty cool if they had lynch record those same lines for the voice-over section in that sequence. It would be really cool). Of course, the talk was interrupted by some other guys storming and bar.
How Lynch actually plays into the story that involves the player-characters is absolutely beyond me, but we all know that Call of Duty features a wide range of characters that dip in and out of the story mode. I suppose a more pertinent question about Lynch's involvement with the game is: will he live long enough in the campaign to see the credits roll?
Treyarch isn't afraid of killing people off in gruesome ways, and the Call of Duty: Black Ops games have been notorious for their no-punches-pulled approach to storytelling. Yes, there were some harrowing moments in some of the other titles, such as losing an arm in Call of Duty: Advanced Warfare or the "No Russian" sequence in Modern Warfare 2; but the Black Ops games had some fairly brutal segments.
Call of Duty: Black Ops 3 is due for release this November for the Xbox 360, Xbox One, PS3, PS4 and PC. And no, there is no Wii U version in the works.
The game will house four-player cooperative play during the campaign on the Xbox One and PS4, but the PS3 and the Xbox 360 versions of the game will be relegated to two-players.
You can learn more about Call of Duty: Black Ops 3 by paying a visit to the official website.
Your Daily Blend of Entertainment News
Staff Writer at CinemaBlend.