Call Of Duty: Black Ops 3 Trailer Introduces The New Nuketown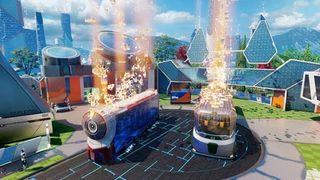 Call of Duty: Black Ops 3 is bringing back the beloved multiplayer map Nuketown from past Call of Duty games. A new trailer from Activision shows how this arena has been updated for Black Ops 3.
The new Nuketown, called "NUK3TOWN," is an model suburb just like past incarnations. However, it now has a more futuristic look to fit Black Ops 3's era. Humanoid dummies that look like the robots from Talos Principle are placed throughout the fake town to confuse players or at least give them something else to blow up. In an added twist, the town seems to be virtual. You can see little pixels floating above certain buildings.
Activision says that the map is also designed to accommodate the new cybernetic enhancements at player's disposal. Here's their official description of "NUK3TOWN":
The decorations in the map include a virtual scoreboard so you can see how your team is doing. There's also a shuffleboard court for hilarious kill shots:
"
"Nuketown" was initially introduced in the first Black Ops game. That initial version was a model suburb created to demonstrate the effects of a nuclear blast. Black Ops 2 followed up on that idea with "Nuketown 2025," a retro-futuristic town. That game also had "Nuketown Zombies," a zombie co-op map in which the remains of the original town have been overrun by undead soldiers.
Call of Duty: Black Ops 3 will launch on November 6th worldwide. Anyone who pre-orders the PS4, Xbox One or PC version will get "NUK3TOWN" for free. The map won't be available on the PS3 or Xbox 360 versions, which also won't have the campaign.
Staff Writer at CinemaBlend.
Your Daily Blend of Entertainment News
Thank you for signing up to CinemaBlend. You will receive a verification email shortly.
There was a problem. Please refresh the page and try again.