Call Of Duty: Black Ops Call Of The Dead Map Gets George Romero, Freddy Krueger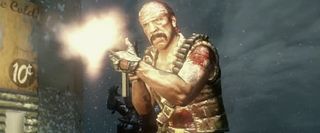 Treyarch is enlisting Hollywood talent for the Call of Duty: Black Ops Escalation zombie co-op level, "Call of the Dead." Night of the Living Dead director George Romero headlines a cast of celebrities that will appear in the map.
Romero will be joined by Sarah Michelle Gellar (Buffy the Vampire Slayer), Robert Englund (Nightmare on Elm Street), Michael Rooker (The Walking Dead) and Danny Trejo (Machete). Those four will be the playable characters. Romero appears as a super zombie of sorts.
The map takes place in and around a stranded freighter in an arctic environment. The trailer presents it like a "grindhouse" film with faded colors. Wonder if they'll use a filter to replicate that effect in-game as well.
"Call of the Dead" is one of five maps included with the Escalation Map Pack. The other four - "Zoo", "Hotel", "Convoy", "Stockpile" - are for the normal competitive multiplayer modes. The maps will be released through Xbox Live on May 3rd and hit the PS3 and PC a month or so afterward.
Your Daily Blend of Entertainment News
Staff Writer at CinemaBlend.