Call Of Duty: Ghosts Confirmed Native 1080p For PS4; XB1 Resolution On Need To Know Basis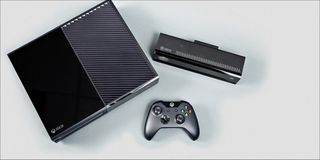 It's been confirmed by VP of Publisher & Developer Relations, Adam Boyes, that the PlayStation 4 rendition of Call of Duty: Ghosts will run at native 1080p at 60 frames per second. On the Xbox One side of things, Microsoft is keeping the native resolution of the game on a need to know basis, and even their higher ups were told they "don't need to know".
The bad news first:
Dualshockers spotted threads on NeoGaf from Microsoft's director of product planning, Albert Penello, as people continue to pester the guy on the Xbox One's capabilities for running games at native 1080p. The Neogaf crew desperately wanted Penello to ask the higher-ups what the native resolution of Call of Duty: Ghosts would be for the Xbox One and here's what he had to say...
That's some pretty messed up stuff right there.
Also, trying to push the blame on Activision is a little disingenuous because, as mentioned, Sony's Adam Boyes was readily able to roll out details on the native resolution of Call of Duty: Ghosts for the PlayStation 4. As reported by PlayStation Lifestyle, the VP of Publisher & Developer Relations took to the stage at Sony's press conference in Brazil and confirmed that the PlayStation 4 wouldn't be limp-dicking it when it comes to running the first-person shooter when it launches next month. The Xbox One on the other hand? Well, it may need some APU Viagra.
Neogaf members actually questioned Albert Penello about this very instance: why on Earth was Adam Boyes able to confirm the native resolution for CoD: Ghosts on the PS4 but no one from Microsoft, even their higher-ups like Microsoft's own corporate vice president Phil Spencer, can't shed an ounce of information on the native resolution for the Xbox One?
According to Penello, he had this to say...
Burnnnnn!
This makes Microsoft's product development and organization hierarchy seem disjointed and poorly structured. This also makes the Xbox One division look like it's on some sort of life-support, where people are desperately struggling to get things running up to par.
With rumors of the Xbox One having reliability issues, only PS4 versions of games being on display and rumors that games are being scaled from 1080p to 720p, things aren't looking good in the Microsoft camp.
Also, with gamers about to pump serious money into these consoles come this November, I would suspect that customers would like to know all the details necessary to make an informed decision. There's no such things as customers querying about specifics and being told by a company they "don't need to know".
Your Daily Blend of Entertainment News
Staff Writer at CinemaBlend.