Call Of Duty: Modern Warfare 3 DLC Arrives On PS3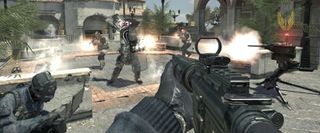 Today marks the start of the Modern Warfare 3 Content Season on the PS3. Starting today premium members of Call of Duty Elite can download two new multiplayer maps, "Liberation" and "Piazza," for the shooter.
"Call of Duty Elite Drop 1: Liberation, a militarized Central Park in the heart of NYC, features a vast landscape ripe for long-range sniper and LMG kills," reads Activision's description of the new maps. "Mounted turrets on opposing ends of the map offer overwhelming firepower to anyone brave enough to man them."
"Elite Drop 2: Piazza, set in an idyllic Italian seaside village getaway gone rogue, offers blind corners and a complex network of branching pathways that pose danger at every turn. Visceral close-quarters combat dominates in Piazza, and attacks from above and below are an ever-constant threat."
Modern Warfare 3 DLC will hit the PS3 at least a month after the Xbox 360 due to an exclusivity agreement between Activision and Microsoft. The "Overwatch" map, released on the 360 last week, will arrive on the PS3 on March 29th.
If you don't have a subscription to Elite, you'll have to wait until March to see any new content for MW3. Activision plans to compile all of the Elite "content drops" into larger DLC packs and sell them to non-subscribers. The first of these DLC packs, dubbed "Content Collections," is expected in March. However, the PS3 Content Collection might be subject to the same month delay as the other DLC.
Your Daily Blend of Entertainment News
Staff Writer at CinemaBlend.
Your Daily Blend of Entertainment News
Thank you for signing up to CinemaBlend. You will receive a verification email shortly.
There was a problem. Please refresh the page and try again.