Capcom Has Just Announced A New Mega Man Collaboration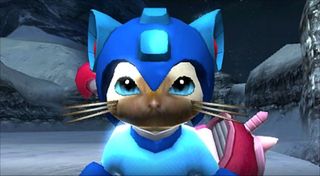 I'm sure many fans of Mega Man were hoping this would be the big news story to end all big news stories about Mega Man, but it's not. This is not about Capcom handing over to Nintendo the Mega Man license. Instead, it's about Capcom adding Mega Man content to Monster Hunter X on the Nintendo 3DS.
Siliconera picked up the new video showcasing the Mega Man outfits and special abilities that Capcom has added to Monster Hunter X for Nintendo's handheld device.
This has been a common occurrence for Monster Hunter games on the 3DS for quite some time. Capcom has been quite dedicated to introducing new content to the game on a regular basis, and has even added in costumes and weapons from games like Super Metroid and Sonic The Hedgehog.
The Mega Man collaboration for Monster Hunter comes in celebration of the Monster Hunter Fiesta 2016 event. The update, as evidenced in the video above, features the Felyne Palicoes being playable with some of the gear from the blue bomber, including the Leaf Shield, Top Spin attack, a Dust Cleaner, a Gravity Hold, a Flame Bast and the Super Arm. You can also see that an extra food option has been added in the form of Mega Man's classic energy restoration item.
Capcom also has some special Square Enix material in tow as well that will be released for Monster Hunter X on January 15.
All throughout 2014, Capcom has been peppering fans of Monster Hunter with a lot of content from various properties and brands, including costumes and items from hardcore action games like Devil May Cry and casual games like Animal Crossing.
The news about the new Mega Man costumes did not sit well with the fans of the blue bomber given that they've still been waiting for a new game from Capcom and it still hasn't happened.
In the stead of Mega Man, there has been the emergence of Beck, another copy-cat of the robotic hero. Beck is starring in Mighty No. 9, from Comcept and Keiji Inafune. The game will attempt to fulfill the role of being a hardcore side-scrolling game for home consoles and PC after it was Kickstarted a few years ago. While some of the luster of the crowd-funded platformer may have waned, it's still closer to filling the void for a platforming game than what Capcom has been producing lately.
For some reason, Capcom will only lend out Mega Man for things like Super Smash Bros. or include his costumes and powers in games like Monster Hunter. Sadly, the pets in Monster Hunter wearing various outfits, eating power snacks and wielding the weapons of Dr. Wily will be as close as gamers get to a new Mega Man title from Capcom.
Your Daily Blend of Entertainment News
Staff Writer at CinemaBlend.