Monster Hunter Ultimate 4 Will Add Free Metroid DLC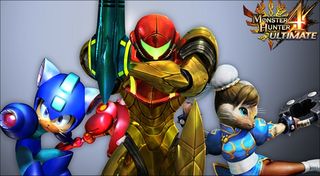 The May DLC roll out for Monster Hunter 4 Ultimate contains some serious fan-favorite goodies, including the Varia suits and arm cannon from everyone's favorite Metroid-taming bounty hunter, Samus Aran. There's also a bit of Street Fighter and Mega Man cosplay gear tossed in for gamers with a deep appreciation for Otaku culture. You can see all the new DLC goods that Capcom is giving away for free, yes for free, with the May update video below.
The May content for Monster Hunter is available now for Nintendo 3DS owners, as announced on the Capcom Unity website. You can add the new goods to your library of content for the monster hunting game by heading to the DLC menu after loading up Monster Hunter 4 Ultimate and connecting your Nintendo 3DS to a compatible online service. Once you're in the DLC menu you can just download the free goods for May.
It seems strange typing out "free" and "Capcom" in the same sentence, especially after all the company's previous DLC shenanigans that either left fans angered beyond belief or turned off enough from the company to completely write them off. Of course, taking some steps to repair the relationship between gamers and the content that a company is trying to sell them is never an easy task. However, I do have to admit that Capcom seems to be easing back into the process of slowly giving the fans what they want... kind of.
The new outfits that they've added for free in the DLC pack for May includes a Blanka and Chun-Li getup, as well as a Mega Man costume. They even tossed in a new weapon to go along with the costume. It's a small bit of fan service but obviously doesn't compensate for the lack of a new Mega Man game that isn't relegated to mobile devices as a cheap endless runner. With that said, Mega Man fans are likely going to have to end up picking up a copy of Mighty No. 9 this September if they want a true spiritual gameplay successor to the blazing blue bomber. At least in the case of the Street Fighter gear it won't be long until gamers will be able to get their hands on Street Fighter V.
As for the Metroid gear... it's nice to see that Capcom and Nintendo still have a good, working relationship going on where we're seeing small bits of branded Nintendo content make the leap into exclusive content from third-party publishers. The Big 'N' previously mentioned that they would be working hard with their partnerships to allow for more of their brands or IP appear in other content. We saw this with McDonald's having Mario Kart 8 toys when the game first launched last year, and then we saw the collaboration between Koei Tecmo and Nintendo with Hyrule Warriors, which was basically Koei's take on the The Legend of Zelda set within the gameplay framework of Dynasty Warriors. And now we're seeing regular Nintendo-themed content appear in Monster Hunter games. Nice.
You can download the May DLC, for free, right now, for the Nintendo 3DS rendition of Monster Hunter 4 Ultimate.
Your Daily Blend of Entertainment News
Staff Writer at CinemaBlend.
Your Daily Blend of Entertainment News
Thank you for signing up to CinemaBlend. You will receive a verification email shortly.
There was a problem. Please refresh the page and try again.