Cat Simulator Has Landed On Kickstarter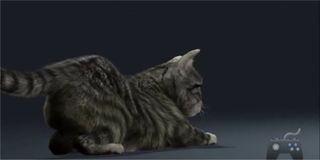 If you thought that Goat Simulator from Coffee Stain Studios was the start and end of animal-based physics simulators, you're about as wrong as a goat farmer feeding his herd mutton.
The animal simulator sub-genre is just getting started, and following the massive success of Coffe Stain Studios' Goat Simulator – a game that managed to take the PC gaming community by storm thanks to some exemplary marketing tactics – Game Teams Studio is testing the Kickstarter-water with Cat Simulator.
This is no joke... this is for real. See for yourself.
Now I have to be honest, that Kickstarter video almost makes me think this project may not be real.
However, the team states on the page that they are dedicated to project and describe the gameplay with the following...
There just aren't enough games out there where you can take a dump and sleep... other than The Sims. But I think I speak for everyone when I say that it's good we have a game where we play a quadruped that can sleep and a take a dump like it's nobody's business. It's just the natural evolution of animal simulators. Speaking of which, I can't wait for Elephant Cage Cleaner 2014. Excalibur Publishing... make it happen!
The game will supposedly – in an updated version – support the Oculus Rift, also now known as Virtual Reality Ad-wear, and include some form of multiplayer. However, I fear to think what the multiplayer would entail beyond sleeping, taking a dump and sniffing each other's butts... or wait, am I confusing that with Dog Simulator?
It's hard to tell right now if you'll be able to do anything wacky in the game or if it's all going to be straight-laced. I'm kind of hoping this is one of those games that tries to be serious but has enough glitches to get tons of YouTube coverage... those are the best kind of simulators.Farming Simulator 2013 anyone?
Cat Simulator only has a $20,000 goal. I don't know if that's enough for gamers to feel as if the developers would scheme to create a Kickstarter and take the money and run, but $20,000 in Toronto, Canada is probably just enough to pay a few months' worth of rent... and your taxes.
I'm somewhat skeptical of this Kickstarter, mostly because it's so barebones. However, if Game Teams Studio – maker of a site called Memechimp.com, a caption-free meme database – can roll out believable updates in a timely manner and show us something that looks legit, then I think it'll be easy to have a change of perspective.
You can learn more about Cat Simulator or pledge some funds to the cause by paying a kind visit to the official Kickstarter page.
Your Daily Blend of Entertainment News
Staff Writer at CinemaBlend.