Goat Simulator Getting New Map, Multiplayer Split-Screen Options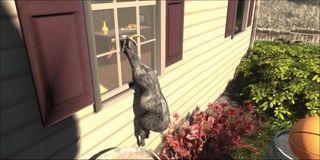 It's a rare thing in games for the developers to add completely different or totally transformative gameplay elements post release. Goat Simulator isn't a standard game.
Coffee Stain Studios recently posted on their Facebook page that they would be doing things a bit different with the evolution of Goat Simulator, as it's shaping up to be one of the greatest simulators ever designed.
As noted on the Facebook post...
That's excellent news!
It's very rare for a game to get a brand new multiplayer feature, even more rare that said multiplayer feature will be split-screen?!
It's like everything about Goat Simulator is completely off-center, either for the sake of being different or just for the effect of embracing the goat-gaming culture.
Anyway, Goat Simulator has gone on to grab the attention of the gaming universe with its completely wacky and buggy-gameplay mechanics. It's not really a game per se, but more like an experiment in ridiculousness. The experiment seems to have worked.
Gamers will don the role of various four-legged creatures, performing crazy stunts, doing crazy things and generally creating mayhem and wreaking havoc for the sake of doing so. The physics-based gameplay also adds a very compelling element to the overall giggle-factor, given that players can lick things, drag things, wiggle things and throw things. Players have also already started crafting their very own ways to extend and expand the replay with custom content and unique new ways to experience goating. The Steam Workshop support also adds nearly infinite amounts of replay value to the game given that it effectively means you can just keep on goating with all new gadgets, goats and hijinks.
For $9.99 you're getting a pretty um, unique deal. The split-screen seems like the sort of thing that may or may not work as intended, but it reminds me a lot of the people who forced split-screen in Garry's Mod and proceeded to do all sorts of ridiculous things while playing locally.
You can grab Goat Simulator right now or wait for the new map and split-screen multiplayer feature to launch this May. Either way, you're in for a Billy good time.
Your Daily Blend of Entertainment News
Staff Writer at CinemaBlend.