Child's Play Responds To EA's DLC: They Did Not Have Our Permission To Run This Promotion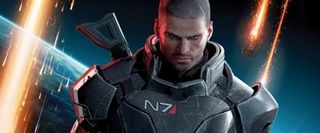 Coming off their recent win as the Consumerist's Worst Company in America, which PopCap tried to defend, EA is back in hot water, again. It looks like EA just can't catch a break, especially when it comes to DLC.
Anyways, there's always multiple sides to every story and the rabbit hole for some stories goes deeper and deeper and deeper. In regards to the Retake Mass Effect 3 campaign, which was organized to raise awareness to BioWare/EA for the ending of Mass Effect 3 by channeling that energy into donating to a charity of their choice, the charity was shutdown due to a policy Child's Play didn't agree with.
We recently ran a story about how EA had used similar means back in December of 2011 for their Battlefield Heroes Christmas DLC, and they managed to basically use Child's Play to peddle DLC to gamers. The article pointed out a slightly hypocritical stance on the issue of attaching causes to a charity and it drew ire from the gaming community towards Penny Arcade and Child's Play. However, there's more to it than that.
Child's Play organizer Jamie Dillion has always been upfront about the charity business and explaining what's really going on behind the scenes. Jamie, on a reddit thread, first clarifies the whole business about Penny Arcade's Jerry Holkin's comments about people requesting refunds being the main reason the Retake ME3 charity was brought to a halt....
Dillion further comments on the whole issue involving the double-standard of allowing EA to host a charity drive for DLC but not allowing the Retake group to use the charity to bring awareness to BioWare and EA over Mass Effect 3, saying...
It was awesome how EA promoted the DLC for Battlefield Heroes as if it was sanctioned by Child's Play even though Child's Play had no knowledge of their DLC promotion. I guess EA was just being EA.
A blog site about why "Penny Arcade Should Not Be Trusted" (and specifically Penny Arcade, not Child's Play) listed other examples of big corporate entities using Child's Play for whatever product they were pushing during that time period and how there was no public reprimanding of these companies using Child's Play for their own means, similar to how EA used it to promote their Holiday DLC.
Despite all this messy corporate politics surrounding a charity organization, it's safe to say that the innocent one in all of this is Child's Play, for as far as we can see. They were simply singled out in a very big, messy PR conflagration.
Penny Arcade, alternatively, doesn't look quite as innocent by comparison given that they conveniently stepped in to have RME shutdown right before PAX East -- an expo that caters to many of the big and small names within the gaming industry to show off brand new stuff and promote upcoming products. The conspiracy theory around the block is that it would have looked really bad having RME show up at PAX East with hundreds of thousands of dollars donated to Child's Play, showing that the gaming community was that displeased with the way things were handled with Mass Effect 3's ending. Effectively, no one can deny that it would have been an absolute PR nightmare for BioWare and EA.
As it stands, Child's Play is at least clear of the carnage (for now) and Electronic Arts steps back into the spotlight for justifying their recent win as worst company in America, especially if it's true that they just forced their association onto Child's Play to peddle their Battlefield Heroes DLC.
As usual, EA declined to comment.
Your Daily Blend of Entertainment News
Staff Writer at CinemaBlend.
Your Daily Blend of Entertainment News
Thank you for signing up to CinemaBlend. You will receive a verification email shortly.
There was a problem. Please refresh the page and try again.