Chris Evans Is Plugging Call Of Duty In China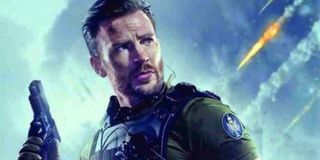 Activision has enlisted an Avenger to promote Call of Duty Online's launch. Chris Evans, Captain America himself, appears in the multiplayer game's latest advertisements.
In the brief trailer for Call of Duty Online, a group of Chinese soldiers are being attacked by a helicopter. They run for cover and find that the path ahead of them is blocked. Suddenly they're saved by Chris Evans, armed with a rocket launcher. The camera cuts away before he can blow up the helicopter, thus explaining how they saved enough money in the budget to hire Evans.
"You guys ready?" Evans says in English.
Evans also appeared in a glossy poster for the game (via JustJared):
It's not shocking to see Activision throw around this kind of money for Call of Duty Online. They've always been willing to pay for celebrities to market their products. Modern Warfare 3's commercials starred Jonah Hill and Sam Worthington. Black Ops' live-action commercial had cameos from Kobe Bryant and Jimmy Kimmel. Megan Fox sniped enemies in the ruins of Las Vegas for Ghosts' ad.
Call of Duty Online is a free-to-play, online game based on the shooter series. Many of the multiplayer maps, equipment and perks were culled from Call of Duty: Black Ops and Modern Warfare 3. The co-op offering includes Survival mode from MW3 as well as a Cyborg Zombies mode.
COD Online entered open beta in mainland China in early 2013 and will officially launch on January 11th, 2015. No other territories have been announced for the game so far. Activision's presumably going to wait to see how COD Online performs in China before they decide to roll it out elsewhere.
I can't say that I'm really excited to get Call of Duty Online here in the States. After all, the game's mostly stitched together from parts of COD installments already released here. It seems like it would be a bit redundant. However, if Activision ever does release COD Online in the United States, I hope they hire a Chinese action hero for the commercials.
Staff Writer at CinemaBlend.
Your Daily Blend of Entertainment News
Thank you for signing up to CinemaBlend. You will receive a verification email shortly.
There was a problem. Please refresh the page and try again.