Command And Conquer Tiberium Alliance Beta Starts Tomorrow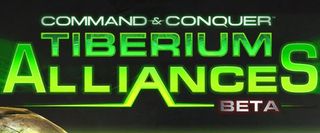 Today EA subsidiary Phenomic announced that they're developing Command and Conquer Tiberium Alliances, a free-to-play MMO strategy game. Tiberium is billed as the first "portable MMO," as it can be played on both web browsers and mobile phones.
"Command & Conquer Tiberium Alliances is the first MMO and first free-to-play game for the long-running Command & Conquer series. We are thrilled to have the opportunity to forge new ground with this acclaimed franchise," said Martin Lohlein, senior producer at Phenomic. "We're hoping to deliver an experience that will allow our loyal fans to play their favorite franchise anywhere they go, while introducing the exciting world of Tiberium to new players."
Tiberium Alliances takes place in the "Tiberium" universe of C&C. The Global Defense Initiative and Brotherhood of Nod are engaged in a worldwide war over a potent yet volatile resource known as Tiberium. Each faction must also contend with the Forgotten, humans who have been mentally and physically mutated by exposure to this resource.
As the name suggests, Alliances places an emphasis on teamwork. You can ally with players and fight "hordes of mutant enemies" or other players. The game utilizes live status streams and newsfeeds updated in real-time to allow you to connect with friends and also keep track of everything happening in the game.
You can sign up for the closed beta at www.tiberiumalliances.com. Testing is scheduled to begin on December 15th.
This is the second C&C game announced this week. BioWare revealed on Saturday that they're working on Command and Conquer Generals 2.
Staff Writer at CinemaBlend.
Your Daily Blend of Entertainment News
Thank you for signing up to CinemaBlend. You will receive a verification email shortly.
There was a problem. Please refresh the page and try again.