Costume Quest Arrives On PC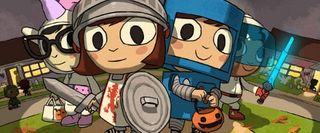 Costume Quest arrived on a new platform today just in time for Halloween. You can now purchase the adventure RPG through Steam for $14.99.
In Costume Quest, the player character's sibling is kidnapped by monsters called Repugians on Halloween night. The player scours the neighborhood for clues to the kidnappers' whereabouts, all the while completing quests and recruiting party members. Players can also fight Repugians thanks to the transformation abilities of their costumes; a robot costume, for example, will turn the player into a giant mech in battle.
The PC version also includes the Grubbins on Ice downloadable content, free of charge. Grubbins on Ice adds a new adventure in which players travel to the world of Repugia. Players will acquire new costumes, battle stamps, quests, and creepy treat cards in their journey to overthrow Araxia.
Costume Quest was originally released through PSN and Xbox Live Arcade. It was developed by Double Fine Productions, the studio behind Psychonauts and Brutal Legend. The prototype for Costume was created by part of the Brutal team while they were waiting for that game to find a new publisher. After the planned Brutal Legend sequel was nixed, Double Fine went back and fleshed out Costume into a full game.
Staff Writer at CinemaBlend.
Your Daily Blend of Entertainment News
Thank you for signing up to CinemaBlend. You will receive a verification email shortly.
There was a problem. Please refresh the page and try again.