Counter-Strike: Global Offensive Will Add Two More Maps: Cobble And Overpass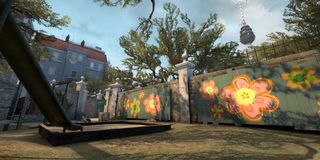 The Counter-Strike: Global Offensive development team is currently working on two more maps. The new additions are a remake of the classic map "Cobble" (a.k.a. de_cbble) as well as a new arena called "Overpass."
Cobble is set in and around a country farmhouse. The terrorist team has to plant a bomb at one of two sites while the counter-terrorists try to stop them. It was much larger than many of the other classic maps, which made it popular for matches with large amounts of players. However, the dev team acknowledges that it had some problems.
"The original map fell out of favor for several reasons. For one, its paths to bomb sites were long and disconnected from each other, ending in tight choke points," says the dev blog post. "This meant that teams were unable to react and change strategy mid-round. The same choke points that made it difficult to plant bombs made it near-impossible to re-take a site and defuse a bomb in time. The lack of strategic options made de_cbble's gameplay feel limited and monotonous."
The revised map is more fluid and less restrictive. There's a new elevated route to reach the B bomb site and a new stairwall to connect to the long approach to A. Bombsite B has been moved closer to the entrance as well to make it easier to attack. Some ceilings have been removed so that players can toss grenades over them to cover their attack.
The visual appearance of Cobble has received a significant upgrade as well. The scale of the buildings has been reduced so players don't feel like they're walking through a giant's estate. The featureless surfaces of the map have been broken up with more realistic details. The designers also looked to create more organic cover instead of just throwing crates everywhere as the classic version's designers did.
In "Overpass," a GSG9 team is trying to defend a military shipment on a canal bridge. The Phoenix terrorist faction can either blow up the overpass or the shipment itself. Players can fight in the open canal or the adjacent public park. Bombsite B, the overpass pillar, is a wide-open environment surrounded by several chokepoints. Bombsite A can be accessed through two routes in the public park. One route is a sniper haven while the other lends itself to close-quarters fights.
"The design of Overpass benefited a great deal from our experiences upgrading Mirage, and from the incredibly helpful feedback we've gotten from the CSGO community since. This allowed us to come into the design of Overpass with some very clear goals: We wanted to keep the visibility high and the environment enjoyable to be in. We also wanted the map to offer something new for both competitive and casual players."
The development team didn't mention when we can expect these new maps. I'm looking forward to their eventual release. Cobble was a fun map in earlier Counter-Strike days in spite of its flaws. The revisions sound like they're on the right track.
Counter-Strike: Global Offensive is available on PC, Mac, PSN and Xbox Live Arcade.
Image 1 of 8