Cyberpunk 2077, The Witcher 3 Planned For PS4, Xbox 720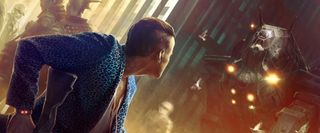 CD Projekt Red is already thinking to the future with their IP, in fact in a recent interview CD Projekt's Adam Kici?ski let loose some exciting new details about their upcoming games, including The Witcher 3 and Cyberpunk 2077. Basically, neither title will be made to accommodate today's aging console hardware and instead will be focused on Microsoft and Sony's next-generation entertainment devices.
Blues picked up a forum post that covers some of the translated details that took place between CDPR's Adam Kici?ski and Piotr Gnyp, the founder of Polygamia.pl.
[[ br. br ]] Gnyp posted tweets from the interview, which hasn't been published in full yet, and some of the things of note are as follows...
Snap, that's big news. You can see one of the actual tweets in Polish right here.
Avalanche Studios also mentioned that they're waiting for next-gen consoles before unleashing Just Cause 3 and that they have some big titles on the horizon in 2014.
Kici?ski confirming that 2013 will be a smaller year for CD Projekt RED lends itself to the belief that the PS4 and Xbox 720 could either launch in late 2013 or early 2014, which seems to be what Avalanche Studios was hinting at as well.
I'm glad they're not trying to squeeze out money from their dedicated fanbase by just rehashing assets from The Witcher 2 and calling it The Witcher 3. I understand that pubs want to make as much money as possible, but charging a full $60 for what's essentially a re-skin job with new voice-over dialogue is just kind of grating.
Nevertheless, it's exciting finding out that CD Projekt is going all out with Cyberpunk 2077 and The Witcher 3, and since both games are way too big for current gen consoles, they will probably work as a new benchmark for the PC Master Race. Good times.
Staff Writer at CinemaBlend.
Your Daily Blend of Entertainment News
Thank you for signing up to CinemaBlend. You will receive a verification email shortly.
There was a problem. Please refresh the page and try again.